Note: due to its lack of browser add-in support, the Windows Edge internet browser is not supported at this time.
WinZip Courier integrates with your web browser so that you can zip and protect your email attachments directly within Outlook.com (Hotmail), Yahoo! Mail, and Gmail. In each case, when you begin to attach a file (or files) to your message, the Windows Open dialog activated by your browser will display and will include WinZip Courier.
Click Insert > Files as Attachments in Hotmail


Click the Attach File paper-clip in Yahoo! mail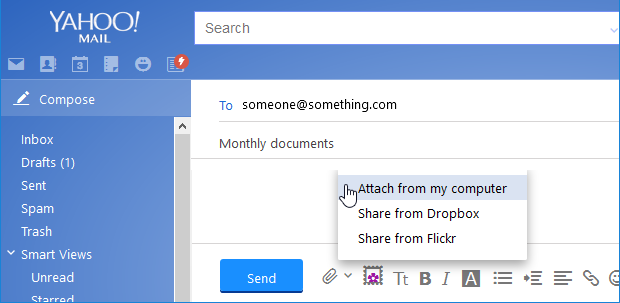 Click the Attach files paperclip in Gmail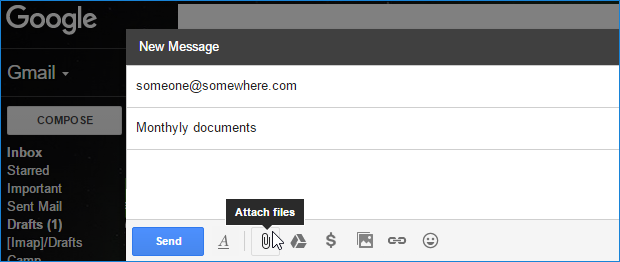 At this point, the Open dialog will display and will include WinZip Courier features.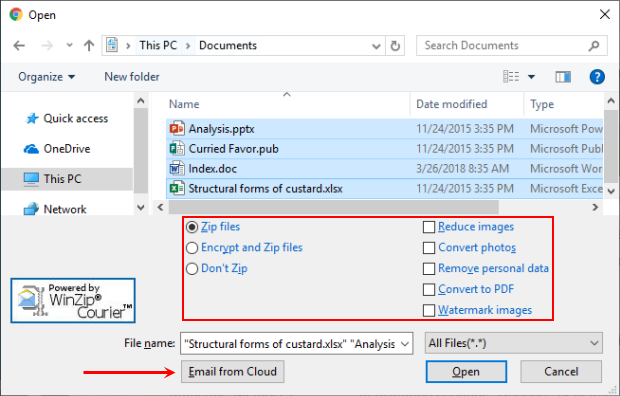 You can now choose to:
Zip files
Encrypt and Zip files
Don't Zip
With any of these selections, you may optionally use any or all of the 3 conversion check boxes. Note: If you select Don't Zip, you may only select one file if you also want to convert the attachment. Another option is to click the Email from Cloud button. Use this to find files you have already stored in a cloud service and send a link allowing the receiver to download the same.
By default, WinZip Courier will have the Zip files radio button selected. You can change this default action in the Attachment Options dialog opened from the WinZip Courier Options dialog. To open the WinZip Courier Options dialog, click Start

All Programs

WinZip Courier

Configure WinZip Courier. The other areas you can edit in the WinZip Courier Options dialog are:
Cloud Service: Click the Cloud options button to:

Adjust the size threshold for uploading your Zip files and sharing a link
Login to a cloud service
Log out of a cloud service
Set a cloud service as the default
Turn the option to have your cloud service links expire on or off
Set the number of days before your cloud service links expire

Attachments: Choose automatic zipping, encrypting and zipping, or not to zip as the default; edit the Zip file name, compression type, and set the single file name on or off
Conversions: Turn any or all conversions on by default and set options for each
Check for Updates: Turn update checking on or off and adjust how often a check is done
Registration: Enter your registration information or purchase a registration
After you select a file or a group of files, click the Open button and WinZip Courier will zip your selection and attach it to your email message.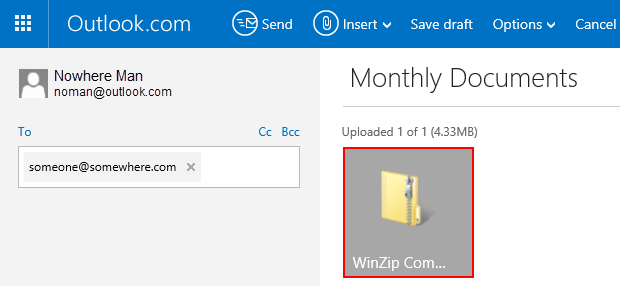 Note: if the Zip file created by Courier is larger than your threshold size, and you have Cloud Services configured to be working, your file will be uploaded, and a link will be placed in the email message instead of the attachment.