This article pertains to WinZip 18.5 and earlier. It is being maintained as archived information.
If your View Style changes when you open various Zip files (.zip or .zipx) in the WinZip ribbon interface or the Legacy menus/toolbar interface, it is due to WinZip's Smart View feature. Smart View allows WinZip to choose the viewer mode that is optimal for the types of files and information in the Zip file. For example, if the Zip file contains images, the Thumbnails view will automatically be selected so that the images can be easily previewed. If the Zip file contains folder information, WinZip will use the Explorer view to make it easier to navigate and see the contents of each folder. If the Zip file contains only a single, non-image file, WinZip will use the Classic view to show all of details of the Zip file.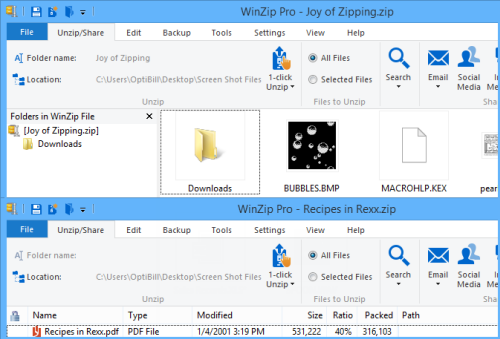 You can turn Smart View off if you do not want WinZip to choose the view style for you on opening a Zip file. To do this:
WinZip ribbon interface
Open WinZip and click the View tab
Click Explorer if you are in the Classic view
Uncheck the box next to Smart View

With the ribbon interface, this configuration change can also be made in the WinZip Options dialog as described below. However, to open the WinZip Options dialog you would click the WinZip Options button in the Settings tab.
Legacy menus/toolbar
Open WinZip and click Options Configuration
Click the View tab
Uncheck the box next to Smart View Mode in the General section

Click OK
If you have any questions about this information, please submit a Technical Support ticket.