This article concerns WinZip 18.5 and earlier. It is being maintained as archived information.
WinZip's default style is that of a ribbon interface as pictured below. This format has made new features possible and was designed for easier use. Even so, some may prefer an interface they have used with an earlier WinZip version.

To configure WinZip to use another interface:
Click the Settings tab in the ribbon
Click the WinZip Options button
In the WinZip Options dialog that displays click the View tab
Choose the Legacy menus/toolbar radio button or the WinZip ribbon interface radio button
Click OK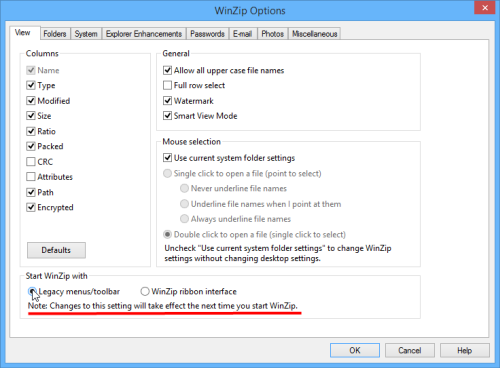 As stressed by the red underline in the picture above, you should close WinZip and open it again to start using the interface you chose.
The Legacy menus/toolbar radio button will cause WinZip to open with an older version of the WinZip Classic interface. To open WinZip Options from this interface, click the Options menu.

If you have any questions about this information, please submit a Technical Support ticket.