Starting with WinZip 25.0, the WinZip Background Tools have been made easier for you to access. Your tools will be easier to use directly from the Tools tab, and you will find quite a few new additions.
It is important to note that on Windows 11 you will be unable to use this WinZip feature if you either have all notifications from apps turned off or if you have turned notifications coming from WinZip off.

Use the background tools
To use and configure these background tools, simply open WinZip and click the Backup/clean tab. There are now 4 different buttons you can use for the various types of tools.

They are:
1. Find/Delete Duplicates: You will need to create tools after you click this button. When you click the Duplicate Files button, a window will open and give you a chance to manage your tool and pick the folder(s) that you want cleaned of duplicates, set a schedule and choose other options as shown below: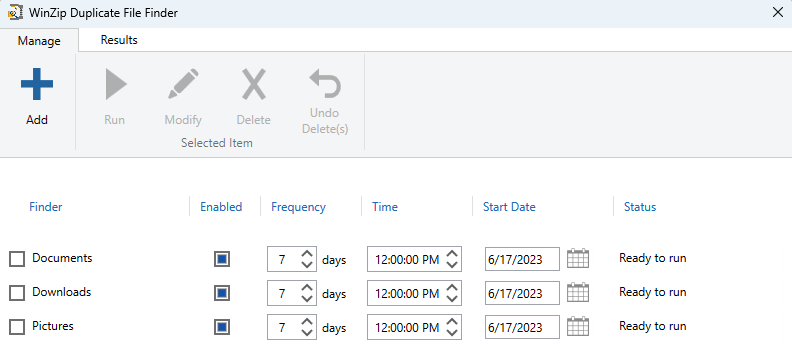 2. Clean Old Files: When you click on this icon, a WinZip folder maintenance tools will open. Here you will be able to choose which documents you want to clean, at what frequency, time and so on:
3. Organize Photos: You will need to create tools after you click this button. When you click the Create an organizer button, a window will open allowing you to name your tool, set a schedule for the tool, pick the cloud folder to organize, pick a destination folder for your photos, and choose other options: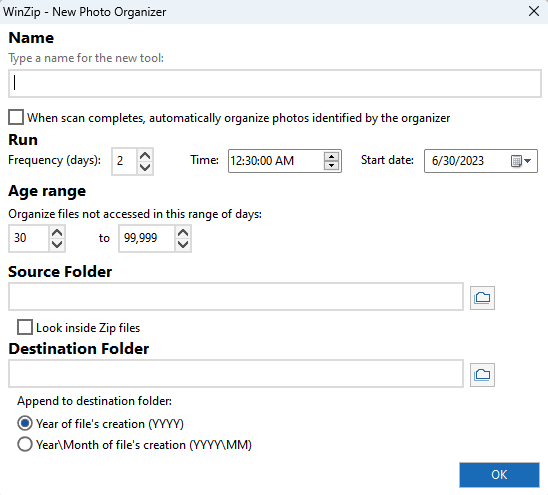 4. Review Notifications: This button will be useful to you if you have scheduled tools to run and possibly miss seeing the notification after the tool has run. If there are any notifications that you did not acknowledge, you will find them listed in the window that opens.