The option to set Favorite Folders is a new feature added to Studio version 14 which is designed to make it easy to locate commonly used folders when searching for content to use in a project.

To set a folder as a favorite, you need to have the folder displayed in the album.You cannot set a folder as a favorite if you are already browsing that folder.If you are browsing the folder, move up one level so that the folder is displayed.Next, right-click on the folder and select "Set as Favorite Folder."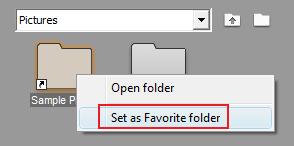 Once complete, the folder will have a star on it, indicating that it is a favorite.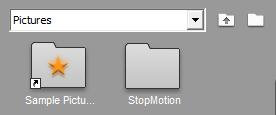 Now that it is set, you can easily browse to this folder at any time by selecting "My Favorite Folders" from the album pull-down menu.

Once selected, all folders that you have set as a Favorite will now be displayed on one area for easy navigation.

You can then open the folder to display the desired contents.