This FAQ applies to Studio versions 14 and 15.

Project Bins are a new tool added in Studio version 14 designed to assist in project asset management. Project Bins offer a convenient way to quickly locate content that has been added to a project. Project Bins also allow you to locate content that you have manually added to the Project Bin for later use. The Project Bin allows all of this content to be displayed in one single location.
To add content to the Project Bin you can either:
Add the content to the Timeline, in this case it is added to the Project Bin manually.
Right-click on the item in the album and select "Add to Project Bin" as is shown below.

To open the Project Bin, click the file folder icon on the top-left of the Timeline, next to the project name. This folder is outlined in the red rectangle below.

Once the project Bin is opened it will be displayed in the album area as is shown below.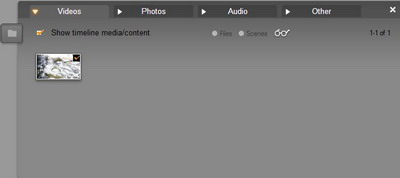 There are individual tabs for:
Videos
Photos
Audio
Other - This contains content such as Titles and Montage templates
Simply click on each tab to display the contents contained within.