This is a new feature of Studio that allows you to locate still images and movies stored on auxiliary devices on your system and copy selected items onto a local hard drive for access through the album.

What can be imported?

To appear on the list, a device must offer the widely-supported Mass Storage Devices interface. Those requiring TWAIN or other protocols must be accessed with appropriate third-party software.

Devices that often contain importable media include:


External optical disc drives, hard drives and flash memory drives
Camcorder or digital camera on-board drives which use optical discs, hard drives, or flash memory drives.
Note: If you have an AVCHD camcorder and Windows XP you may need to install the UDF 2 driver to see the files on your hard drive.

How do you import the media?

1. Open the Import Media interface

There are two methods to begin the process. You can either select File -> "Import Media from Device" or select the "Import media from device" button located in the album 

Once this is done, the Import Media tool will be displayed: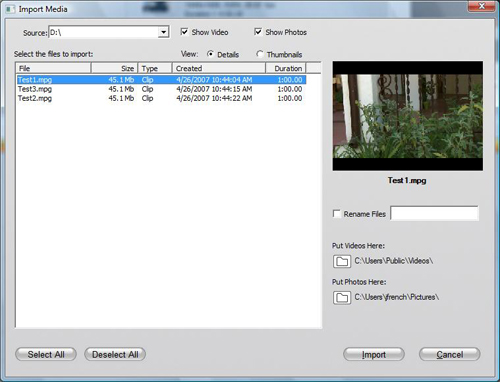 2. Select the media to import.

The Show Video and Show Photos checkboxes let you specify which kinds of media files to list. By default, both video and photos are shown.

You can select multiple files to import by using standard Windows mouse and keyboard commands, along with the Select All and Deselect All buttons as required.

3. Import Options (Refer to the Import Media interface image above)

Renames Files: Check Rename Files if you would like the names of all the imported files to share a common stem. For instance, if you check Rename Files, enter the word "Monday", the import some JPEG files, the imported files will be called "Monday 1.jpg", "Monday 2.jpg", and so on.

Delete files on source device after import: If you would like to reclaim storage space used on the device by the imported files, you can select this option.

Video and Photo Destinations: By selecting the file folder icons you can choose the destination folder for your imported videos and photos.

4. Import

Click the Import button to import the selected media.