While installing Studio, error message "Error 2753. The file 'fwkick.exe' is not marked for installation" And then the install stops.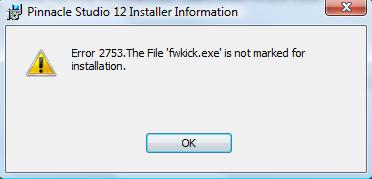 This problem is caused by a corrupted installShield folder. To solve this problem follow these steps.

1. Open C:\Program Files\Pinnacle. Now delete the Studio12 or 14 folder. (Under Vista 64 look in C:\Program Files(x86)\Pinnacle.)

2. Open C:\Program Files\Common Files. Delete the folder called InstallShield.

3. Go to Start > All Programs > Accessories > Run. Type msconfig and hit OK.

4. Click on Diagnostic Startup.

5. Go to Service tab and look for Windows Installer. Check to make sure this is enabled. Click on Apply and then Close.

6. Restart the computer and install Studio again and it should install normally.