Yes, Studio Plus and Ultimate Version 12 is able to create Blu-Ray disks but Studio 12 Standard does not have this feature.

Studio Plus and Ultimate V. 12, can output Blu-Ray discs on BD-R 25, 50 GB and BD-RE 25 GB disks with motion or still image menus. To create a Blu-Ray disc, go to the "Make" tab, select "Disc" and select Blu-Ray Disc in the pull-down menu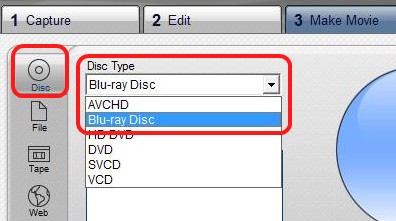 Mpeg 2 and AVC (=H.264) are the available video codecs. Dolby Digital 2 channel or 5.1 are the available audio selections.
If your video footage is HDV, you could select mpeg 2 as output format.