Export to Device is a completely new section of the Exporter introduced in Pinnacle Studio. It contains all of the available file formats which are compatible to many popular devices. In previous Studio versions most of the items in the Device section were available export presets under the other various file types. Moving them all to one central location like this increases convenience and usability. The available Device types are:
Apple
Microsoft Xbox
Nintendo Wii
Sony PS3
Sony PSP
Here is a screenshot showing these options.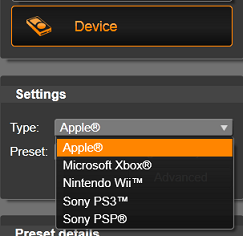 Each device type has a number of presets. Here is the Preset list for the Apple® device types.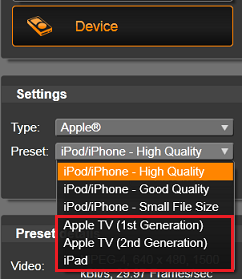 The following 3 items are completely new to Pinnacle Studio:
Apple TV (1st Generation)
Apple TV (2nd Generation)
iPad