When trying to burn a disc, it is possible that you might receive one of the following errors:
Error 1: Please insert a new disc and close burner tray for writing disc 1 of 1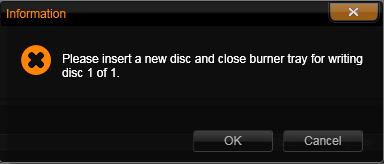 This error means that there is no disc detected in the selected drive.
Error 2: The inserted disc is not blank or is not erasable. Please insert a writable disc and press OK to retry.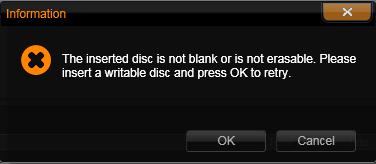 This error means that the inserted disc already has something written onto it.
To resolve either of these errors, try the following:
1. If you have more than one burner, make sure that your Device setting is set properly.
2. Insert a blank disc.
3. Try to burn the disc again.