The error message looks like this: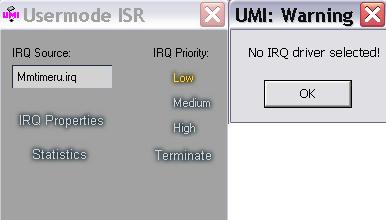 This is a rare issue Pinnacle systems is trying to resolve. This problem can be caused by the Pinnacle UMI.INI file being missing after installing Studio. We have reproduced the error message by removing this file, but currently we are researching if this is the only file missing and why it was not installed.
Option 1: Press the "OK" button on the "No IRQ driver selected" error window and close the other window by pressing on the X in the upper right hand corner. See if Studio opens. If it does, you can use this as a work around.
Option 2: Download the UMI.INI file: Click here download UMI.zip. Once you have the file, extract the UMI.ini file and copy it to the the location listed below. Where it is copied to, depends on your version of Windows. In the paths given below, substitute "StudioVersion" for your specific version of Studio (Studio12, 14, etc.)
If you have XP C:\Documents and settings\all users\documents\Pinnacle\Program files\Pinnacle\StudioVersion\programs
If you have Vista C:\Users\Public\Public Documents\Program Files\Pinnacle\StudioVersion
Option 3. If Option 1 or 2 above does not work, please see this FAQ for how to uninstall and reinstall