This article applies to Avid Studio and Studio 16.

When working with Montage Themes you may notice that some of the drop zones have an audio symbol and some do not. This varies by theme and template. Here is an example of a drop zone with an audio symbol in the upper-right corner.

What this means is that the audio portion of any video in that drop zone will be included in the Montage template's audio. Note that once a video is added to the drop zone that supports audio, the waveform for the Montage clip now reflects this. See the following screenshot, the previously flat waveform now shows where the audio occurs.

If you want to mute the audio for a specific drop zone, simply click on the audio symbol to that is has a slash mark through it.


Adding Custom Audio to a Montage Theme
There is no tool in the Montage Theme itself to add custom audio that will play during the Montage clip; however it can be done in a few simple steps by editing in the Timeline.
To have your own audio play during Montage template, simply add the desired audio clip to the Sound Effect or Music Track directly below the Montage Clip in the Timeline. See the image below for an example: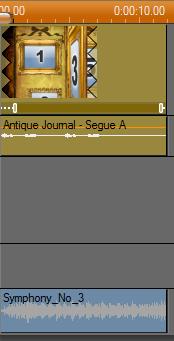 In this example the new audio added will play as well as the audio supplied with the video that was added to the Montage drop zones. If you only want the new audio to play and do not care to hear the audio from the added video in Montage, just mute the audio the Montage Properties as described above.