Users should always try to remove Roxio Creator 2011/2012 from Control Panel in Windows.

Windows 7 and Vista: Start button > Control Panel > Programs and Features

Windows XP: Start > Control Panel > Add/Remove Programs

The solutions below should only be tried if you encounter installation issues after you have removed Roxio Creator using the uninstall options in Windows:

The Creator 2011 System Cleaner should only be used as a last resort and will work with Creator 2011, Creator 2012, Creator 2012 Pro, Creator NXT, & Creator NXT Pro. Please read the instructions carefully to ensure the Creator 2011 System Cleaner works properly.

To use the System Cleaner:
Stop any Roxio installation or program processes.
Extract the Creator 2011 installer:
If you downloaded your program, you will need to extract the installer .exe file to a new folder. You may need to download a program to extract the installer - such as WinZip (trial) or WinRar. If the .exe extracting capability is installed, right-clicking on the .exe file will give you a menu option to extract it. Be sure to extract the .exe to a new folder on your hard drive.
If your installer is on a disc, right-click on the installation disc and select Explore to open it. Then copy all the files to a new folder on your hard drive.
Ê
Download and install the Creator 2011 System Cleaner here. After downloading, unzip the C2011_CleanSystem.bat file to the folder where the installer files are extracted to in Step 2. It should be in the same folder as the Creator 2011 setup.exe file.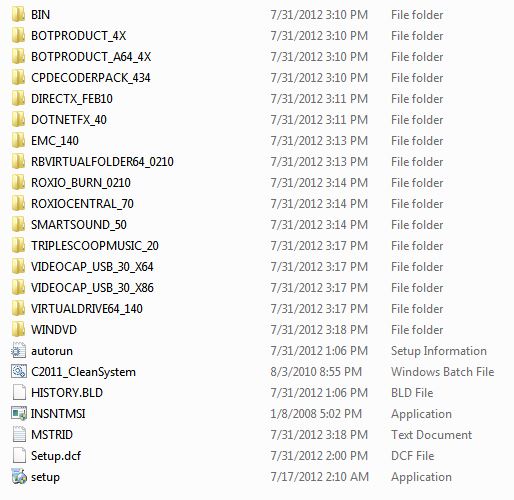 Double-click C2011_CleanSystem.bat to begin the process.
When the Remove Roxio Creator 2011/2012/NXT window appears, click on the Install button to continue.
The process should take a few minutes to complete.