This article applies to all versions of Creator NXT and Creator 2012 and earlier.
 Issue:
The Roxio Creator NXT launcher (Roxio Central) opens, but when an application module is selected, such as Edit Video-Advanced (VideoWave) or Edit Photos (PhotoSuite), it will not respond. The button clicks, but nothing happens. The issue affects only the application modules that launch to their own application window (e.g., VideoWave, PhotoSuite, SlideShow Assistant, etc.), but not the modules that open within the Creator NXT launcher window (e.g., Burn Audio CD, Burn Disc Image, Copy Disc to Image, etc.).
On navigating to the folder location of the application modules' executable, and running (double-clicking) the .exe file, it fails to launch with the error message "C:\Program Files (x86)\Roxio Creator NXT Pro 6\%name of application module%\%name of executable%.exe: Windows cannot find 'C:\Program Files (x86)\Roxio Creator NXT Pro 6\%name of application module%\%name of executable%.exe'. Make sure you typed the name correctly, and then try again."
 The Roxio PhotoSuite application folder: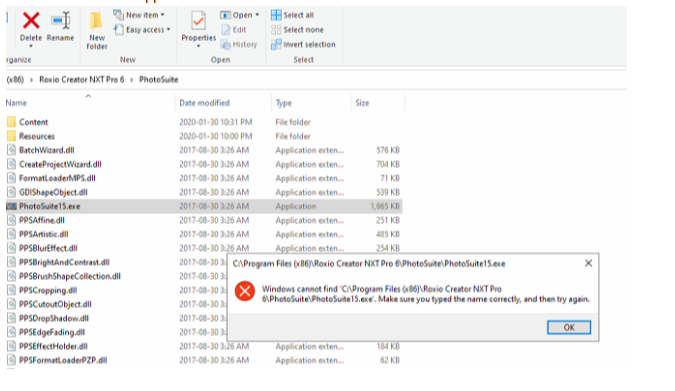 A closer look at the error message

Cause:
A previously installed antivirus software or registry tune-up utility have placed the applications' executable in a "quarantined" state, possibly as a security measure. After the antivirus or registry utility was removed from the system, the procedure code for launching these applications no longer exists. As such, the normal execute call fails and the application cannot be started up.
 In this example AVG TuneUp was the culprit, which is a system and registry optimizer from AVG. If you have been using this, or any similar utility, to improve your computer's performance, this article applies to you.
Fix:
Step #1
Open the Windows Registry Editor by typing in "regedit" in the Search tool on your taskbar and select the "Registry Editor" application from the search results list. Or, press the Windows key + R to bring up the Run dialog box and type in "regedit" or "regedit.exe" in the "Open" field and click OK. Click "Yes" in the User Account Control dialog box if it comes up.
Step #2
Once the Registry Editor window is up, navigate to Computer\HKEY_LOCAL_MACHINE\SOFTWARE\Microsoft\Windows NT\CurrentVersion\Image File Execution Options
Step #3
Under the Image File Execution Options key, locate the sub-key folder bearing the executable filename of the Roxio Creator application module you are trying to open. For example, the "Edit Photos" or PhotoSuite executable filename is "photosuite15.exe". The "Edit Video-Advanced" or VideoWave executable filename is "videowave15.exe".
Step #4
Once the executable has been located, select its sub-key folder, and check if there is a "Debugger" item listed on the right-hand pane. If there is, does it show a value under the "Data" column? If so, double-click on the Debugger item to open it's "Edit String" dialog box. In the dialog box, delete the value data, and click OK.
The photosuite15.exe key and value in the Registry Editor: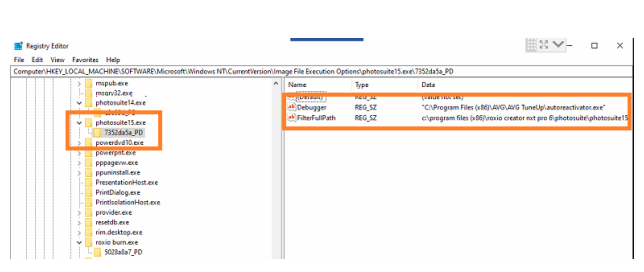 A closer look:
1 - The execuable key (left-hand pane) - "photoshow15.exe" in this case, with its subkey selected, "7352da5a_PD".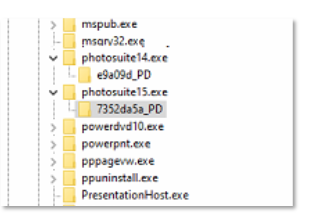 2 - The key value (right-hand pane) - "Debugger" is what we are looking for. Under the "Data"column, it has a value of "C:\Program Files (x86)\AVG\AVG TuneUp\autoreactivator.exe".

Step #5
The corresponding Roxio Creator application module should now launch when selected in Roxio Creator launcher window, or when double-clicked from its folder location. Test this and see if it worked.
Step #6
Repeat the same procedures for the other affected application modules.
That's it. All your Creator NXT application modules should now be back to working condition.
A note on System and Registry Optimizers
These powerful utilities should always be used with caution. Making too many changes at the same time could potentially cause irrecoverable damage to your operating system. If you can avoid these type of utilities, do so. It is always better to go the physical upgrade route (add more RAM or replace your slow hard disk drive with a solid-state drive, or SSD) than gamble system stability with utilities that modify or "tune" your operating system settings.