Note:
The Roxio PhotoShow Premium service reached End-of-Life (EOL) status on December 31, 2020. The Roxio PhotoShow app is no longer supported.
The reason behind this move was due to Adobe's retirement of the video engine PhotoShow was running on, Adobe Flash Player. You can read the details of this retirement here.
On the day of its announcement, Corel ran a messaging campaign notifying users of the EOL, and how to download and export their shows to video format in order to preserve their precious memories. The email that was sent to customers is exactly as shown below.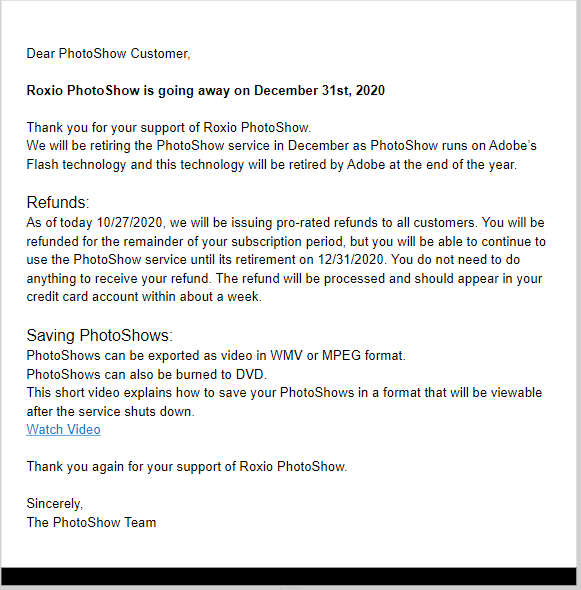 Roxio PhotoShow was a web service that let you share photos and videos with friends and family by creating PhotoShows slideshows with music, captions, animated graphics, transitions, and effects. You could organize and watch your PhotoShows using your personal web page, a unique URL for your content that you could share.The Roxio Online basic service was free.

Roxio PhotoShow Premium Service subscribers (purchase required) also got the Roxio PhotoShow desktop application which had many complimentary features in addition to the Roxio Online service. You could create PhotoShows either on Roxio Online or using the Roxio PhotoShow application.

In the Roxio PhotoShow desktop app, you were also able to:
Export your PhotoShows to Windows Media Video or MPEG-2
Burn shows to DVD & CD
Upload PhotoShows to your Roxio PhotoShow account
Download PhotoShows from your Roxio Online account
Create PhotoShows while not connected to the internet

Note: Shows that were created in the Roxio PhotoShow application were saved to your computer as PhotoShow files. They did not automatically upload to Roxio PhotoShow. The Post and Link option in the Share tab enabled you to upload your show.