Symptoms
Upon launching MyDVD, and selecting a disc project type from the New Project window, an error comes up stating:
An unknown error has occurred. The application will shut down now.
Exception:
Could not find a part of the path 'x:\...'. (where 'x:\' is a directory path)
Clicking on the OK button will shut down MyDVD. This happens each time you launch the program.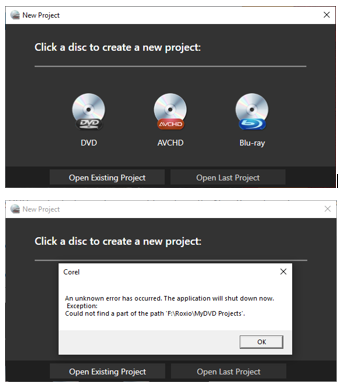 Cause
This problem occurs when you have created a MyDVD project, saved it to a given folder location, and then that folder location was removed. The next time you launch MyDVD and select a disc project (e.g., DVD, AVCHD, or Blu-ray), the new project launcher will attempt to access the last saved location and finds it no longer exists. This will disrupt its process and cause an exception error, as shown in the above screenshot. The program will then exit after clicking the OK button.
Resolution
The easiest approach to resolving this problem is, of course, to restore that folder location. But this might not be the most practical in every situation. For instance, if the missing folder location is on a removable drive that you no longer possess? So, instead of going through the trouble of getting a new removable drive and recreating an identical folder path, you could just delete the MyDVD data cache, forcing the program to create a fresh one. The new data cache will not have any record of the old project location, so it will not look for it.
Resetting the MyDVD data cache:
Exit MyDVD, if it isn't already;
Press the "R" key simultaneously with the Windows Key on your keyboard;
In the Run dialog box, type in %localappdata% and hit Enter on your keyboard, or click OK;
Once the AppData > Local folder comes up, locate the "Corel" folder and open it;
You should see the data folder named "MyDVDApp.exe_Url_wg4k2gchudgu0gnes3tfsufwcdzvnnev". The exact string following "Url" may differ for you.



Rename the data folder to something else, or simply append a ".old" to the existing name, like "MyDVDApp.exe_Url_wg4k2gchudgu0gnes3tfsufwcdzvnnev.old". Adding ".old" to the folder name makes the folder invisible to the program, essentially deleting it.

Note:
You do not want to completely delete the folder, as it may contain data that you might want to restore later on when you get that missing removable drive back.

Exit the folder and re-launch MyDVD and try selecting a new disc project again.
After that last step, you will find that MyDVD now launches normally after selecting a disc project.