Symptom
While burning a disc in Toast, the session quits and an error comes up stating "Could not record the disc because ALRT_251_MESSAGE4 Result Code= -5000".
Cause
If you are getting this error message when attempting to burn a disc in Toast, this is likely caused by certain restrictions placed on your Mac computer.
Note:
This article applies to all versions of Toast and its derivatives, such as Toast Burn, Toast DVD, and Toast Audio.

Error -5000 is an "access denied" error message; so, this issue has to do with permissions where access to the file is being restricted. These restrictions prevents Toast, or other applications, from gaining access to certain MacOS resources needed to perform its tasks.
Resolution
To ensure that Toast has the necessary permissions it needs to burn a disc, we will be looking at the following:
Managed accounts;
Third-party antivirus software and firewall;
Full disc access;
File permissions.
What is a "managed account"?
On macOS Mojave and earlier, managed accounts are specialized accounts that use Parental Controls to restrict usage. These types of accounts are an ideal choice when you want to give your children or family guests free access to your Mac computer, but at the same time prevent them from modifying system settings and/or restrict the applications they can use or websites they can visit.
On macOS Catalina and later, Parental Controls have been replaced with Screen time, which functions roughly the same way as Parental Controls.
If you are signed in to a managed account, run Toast under an Administrator account. To learn more about the different user types and their privileges and how to change from one to the other, please refer to this Apple support article: Set up users, guests, and groups on Mac.
Third-party antivirus software and macOS Firewall
If a third-party antivirus software (such as Bitdefender, McAfee, Norton, Malwarebytes Premium, etc.) is installed and protecting the system, disable it temporarily and see if the problem goes away. If so, you can fine tune the protection settings to make an exception to Toast. See your software's help documentation for instructions.
The built-in macOS firewall makes your Mac computer more secure by blocking unwanted incoming or connections. However, this can be a problem if certain apps are blocked completely and they are unable to access, or communicate with, resources on your network. If the files you are trying to burn are stored on a network attached storage (NAS), or some other network location, there is a possibility your firewall is causing the error.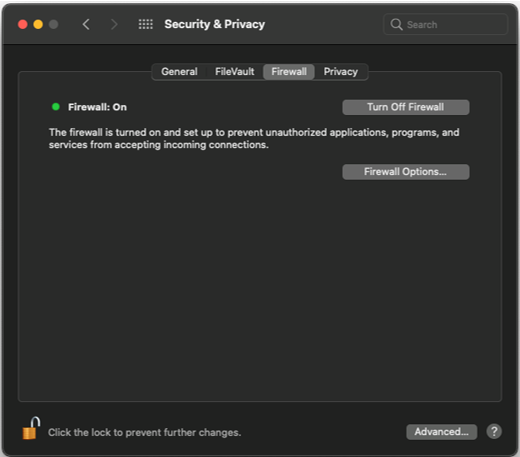 Try temporarily disabling your firewall and see if the problem goes away. If so, you might want to modify your firewall options to permit some apps and services to receive requests through the firewall.
Please refer to this Apple support article: Block connections to your Mac with a firewall for instructions on how to make changes to the macOS firewall. If you are using a third-party firewall, please refer to the software's help documentation for instructions.
Granting Full Disk Access to Toast
If there are no antivirus software installed and/or the firewall was never enabled (or both have been temporarily disabled but the issue persists), see if Toast has been given full disk access permission in System Preferences. If not, or Toast is not on the apps list, follow the steps below.
Open the System Preferences → Security & Privacy → Privacy → select Full Disk Access.
Click the Lock in the bottom left corner and enter your password to make changes.
If Toast is displayed in the list on the right pane, tick the checkbox.
If Toast is not displayed, add the app to the list by following these steps:

Click on the Plus button.
Select Toast from the "Applications"
Click Open to confirm.5. Click the lock to save changes. A dialog box may appear stating Toast will not have access to files until you quit and restart. Click the "Quit Now" button.

Then launch Toast again. It should now have Full Disk Access on your computer.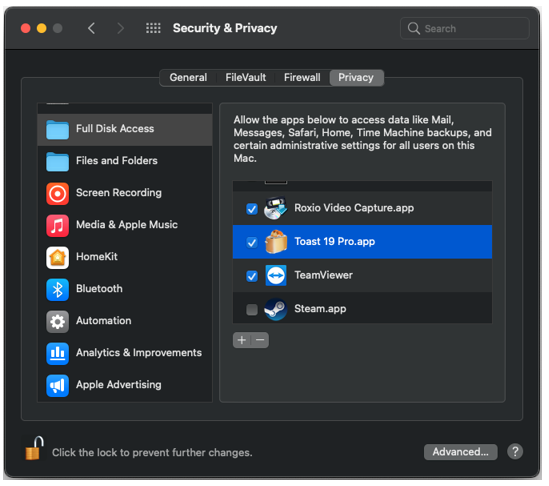 File Sharing and Permissions
If none of the above gets rid of the problem, maybe the files' sharing and permissions settings are preventing you from making any kind of modifications to it. Select the file you want to burn to disc and on the menu bar click File > Get Info.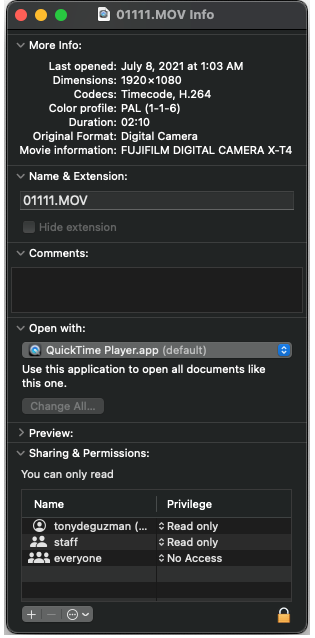 In the Get Info window, scroll down to the bottom until you reach the "Sharing & Permissions" section. The file may be set to either "Read only" or "No Access". Try setting it to "Read and Write" and see if the problem goes away. To learn more about the things you can do with Sharing & Permissions, please refer to this Apple support article: Change permissions for files, folders, or disks on Mac.