Symptom
When attempting to restore data from a spanned backup disc set you created in an older version of Toast, you get the error "Roxio Restore needs to be updated" and you will not be able to restore your data.
Cause
Roxio Restore is a small app that is embedded onto DVD or Blu-ray discs burned for backup purposes. In other words, Toast 18 (and earlier versions) creates these backup discs, and embeds the Roxio Restore app onto the burned disc itself, so that no matter what Mac computer is used to open these backup discs, the Roxio Restore app is always there, even if Toast 18 is not installed on that Mac. The app is particularly essential in piecing together files that have been split into two or more parts (in a spanned disc set) because they don't fit on a singe disc.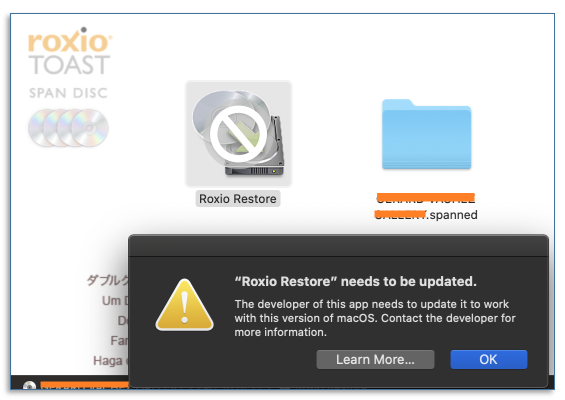 The problem here is that if you used an older version of Toast to create that backup disc, and you are trying to restore the backup on a macOS Catalina system, you will get an error stating that "Roxio Restore" needs to be updated". The reason for this would be that the Roxio Restore app will be an older 32-bit version. Since macOS Catalina requires all its apps to be 64-bit apps, the error message appears. It is essentially saying that the app needs to be updated to a 64-bit version. Obviously, the Roxio Restore app will not work. You cannot replace the embedded Roxio Restore app on the backup disc.
Resolution
There is no way to update the Roxio Restore app that has been burned to the spanned disc set, and you cannot use the Roxio Restore app that is installed on your Mac separately - it only works from the disc set that was created. Hence, the only workaround would then be to open the backup disc on a Mac that is running Mojave (macOS 10.14) or earlier, which still work with 32-bit apps.