Welcome to this introductory video on how to use scripts in Corel PaintShop Pro. 
Scripts are a fast and easy way to apply a series of effects or techniques to a photo and leave the guess work out of it.  PaintShop Pro allows you to choose from a selection of pre-made scripts, create your own, or run purchased scripts that you've downloaded. If you've purchased or downloaded a PaintShop Pro script but you're not sure exactly how to use it in the program, you've come to the right place.  This tutorial will show you just how simple scripts can be. 

First of all, open up PaintShop Pro into the Edit work space. 
Since most of the scripts you'll be using are created for the purpose of altering a photograph, the first step will be to open the image you wish to work with.

Next, go to File, Open and select a photo.

In this example, I have a script called Warm Summer Glow.  You can save the scripts you've purchased or downloaded to any directory on your computer.  In this example, I've saved that script to the desktop.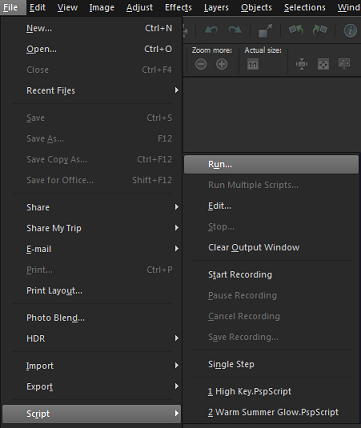 Browse to the desktop, select the script file and click Open.  The script will then apply itself to the image you have open. After the script has finished, you can save a copy of the image.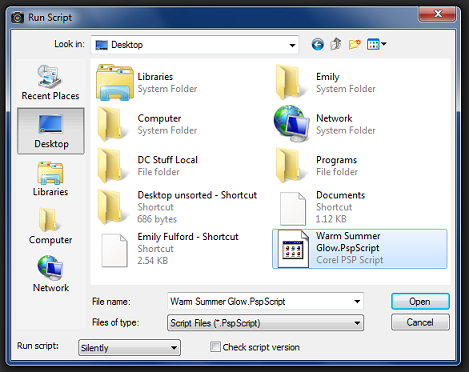 If you're going to be using scripts a lot and want to stay organized there are actually a couple of folders just for that.  Browse to: Corel PaintShop Pro\16.0 (or whatever the version is that you're using) \Scripts-Restricted '(or Scripts-Trusted). 

When you save a script here, it will be listed in the drop-down on the left of the Script toolbar.

Let's look at another example here, this is a script that can mimic a popular photography technique called "High Key" and it works great for portrait shots.

Just open the image, go to the drop down list, select the script High Key, and click the play button to run - now just sit back and watch the magic take place on the screen.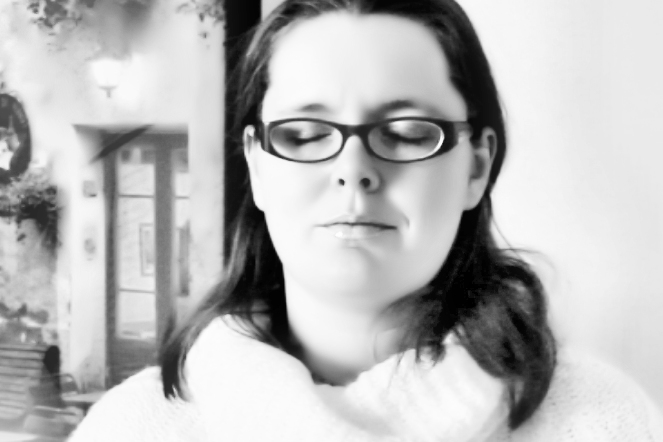 Again, a procedure that would have otherwise taken 20 minutes to do is done in under 60 seconds by using a script.  This is a great time saver if you're working on a bunch of images.

Scripts can seem complicated at first if you don't know how they work, but as you can see, applying a script to an image can be a quick and simple procedure. 

Visit learn.corel.com for tons of video and written tutorials, contests, tips, eBooks and more!