How to control messages delivered by PaintShop Pro X9
You can control messages delivered by PaintShop Pro X9. This includes choosing the type of messages that appear and the frequency of tray notifications. Although not recommended, you can disable most messages.
Note: Many Corel products use tray notifications to communicate with users. If you choose to turn off tray messages for PaintShop Pro, you will still receive tray notifications from your other Corel products unless you turn off the tray notifications for each product. For other Corel products, refer to the product Help for more information about controlling messages..
To control messages delivered by PaintShop Pro X9
In PaintShop Pro, click

Help

menu >

Message Preferences

.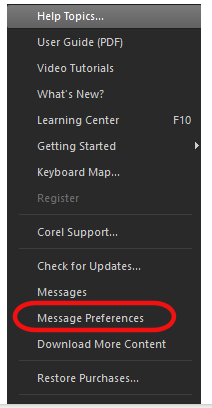 2. In the Message Preferences window, do any of the following:
To hide product and content offers, which may include free or paid items, uncheck the Keep me informed with the latest product related messages check box.

To hide update messages, uncheck the

Automatically download free product updates and notify me before installing

check box.

To control tray notifications choose one of the following options from the

Receive updates/offers as tray notifications

drop-list:
Once a day
Once a week
Once a month
Do not show me tray messages for this application

To clear messages that are already downloaded
For update messages, installing the recommended update will stop the message from appearing.

For windows that show other messages (more than one message might be downloaded), enable the

Do not display this message again

check box.