Customizing the effect of Duotone Scripts for PaintShop Pro
After you run the Duotone script, a "Threshold" adjustment tool will prompt. The default Threshold value is set to 118. Click OK if you don't want to make any changes. Otherwise, you can increase or decrease the value to change the brightness and contrast of the photo to show or hide photo details. Click OK after you customize the Threshold value and the script will automatically apply the rest of the effects to your photo.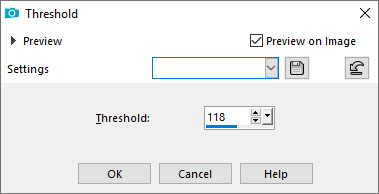 Tip: Duotone script works best with high resolution photos. It is recommended that you apply the script first before changing the image size. For example, if the photo you took is 2816x1880 pixel and you'd like the final image size to be 900x600. Apply the script to the original image first, then change the image size afterward and not the other way around.