When trying to launch PaintShop Pro X9 the following error may occur: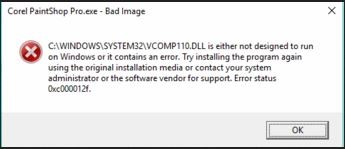 Reason: The VCOMP110.dll is part of Visual C++ 2012 and may have become damaged or corrupted.
To resolve this problem a repair on both the 32-bit and 64-bit  C++ 2012 will need to be performed following these steps:
1. Using your web browser go to:
    https://www.microsoft.com/en-ca/download/details.aspx?id=30679
2. Click on the download link              
3. Download both the 32-bit (VSU_4\vcredist_X86.exe and 64-bit version 
                   (VSU_4\vcredist_x64.exe)

4. Click on the Next box appearing towards the bottom right and save both the vcredist_x64.exe and vcredist_x86.exe files to the computer.
5. Once the download is complete run the vcredist_x64.exe and the .NET setup will start.
6. Once the setup window appears click on "Repair"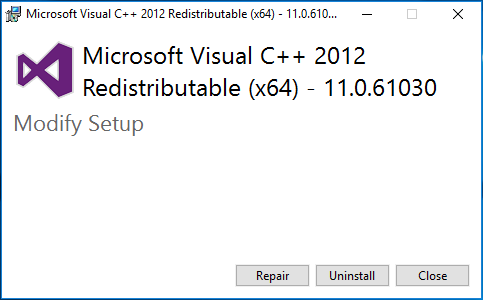 7. Once the repair process is complete, click on Close.
8. Repeat the process by running the vcredist_x86.exe to perform a repair on the 32-bit version.
9. Once the repair is complete, a system restart may need to be performed.
10. Once the computer has been restarted, try launching PaintShop Pro X9.