This problem may occur when you try to open the HELP Section by pressing F1 or clicking on the HELP SECTION from the HELP menu, and you receive the error message "Web Works Help Display Fail!"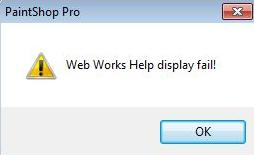 To resolve this issue, please follow the steps below:
First, reset Internet Explorer to default:
Click on START
Click on Control Panel
If using Windows Vista or 7, change your view from Category to Large or Small Icons
Double-click on Internet Options
Select the Advanced Tab
Click on Restore advanced settings
After all IE settings have been restored to default, click the OK button
Click on the Security Tab
Click on the Default Level button
Click on the Privacy Tab
Click the Default button
Lastly, click Apply and / or OK
The problem is caused by changes to your default web browser settings, so no web browser is selected to display the help section.
Also as an alternative to fix this, just select the default browser that you prefer. You can set Internet Explorer, Mozilla Firefox, Opera, Google Chrome or Apple Safari as your default browser. Allfivebrowsers will display the Help section without any problems.
You can click on the browser that you want to select as your default browser below.