What exciting surprises can be found in Corel® WordPerfect® Office X6?
Every new release comes with exciting and innovative features and WordPerfect® Office X6 is no exception. Thanks to the requests of loyal users and the creativity of Corel developers, WordPerfect X6 now supports the use of multiple monitors. If you're lucky enough to have a trio of monitors, you can fill each one with an impressive array of documents. And that's just the beginning.
Equally as exciting is an extensive collection of powerful accessories, which includes industry-standard file compression utilities, a video editor, email, and intelligent scanner utilities that can turn mounds of hard copies and photos into fully searchable PDFs.
Multiple monitor support
The multiple monitor support is really a two-part enhancement — you now have the ability to work with WordPerfect documents across multiple monitors, and you can run multiple copies of WordPerfect simultaneously. If you have more than one monitor at your workstation, you can edit one document on the first monitor, a second document on a second monitor, a third document on a third monitor, and so on (see Figure 1).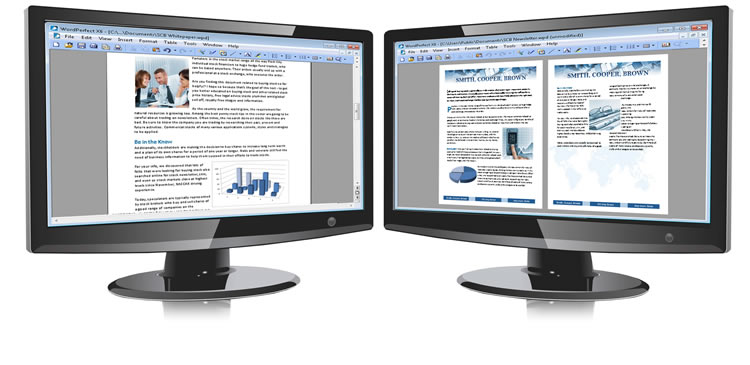 Figure 1 
New multiple monitor support lets you work on several documents at the same time.
How is this possible? By retooling the product so that multiple copies of the program can be open at the same time.
Each instance operates independently of one another so you can be running spell check on a document in one copy of WordPerfect and generating a table of authorities on a document in a second copy of WordPerfect. Not only that, but you can open up to nine documents in each copy of WordPerfect. Since you can open as many instances of WordPerfect as your system can manage, with each copy capable of handling nine open documents, you can have quite a collection of documents open, all at the same time.
Advanced preview in Windows® Explorer and Outlook®
The new Preview mode lets you have a look at WordPerfect files in Windows® Explorer and Microsoft® Outlook2007/2010® before you open them. Other word processors only let you select and copy text from the Preview pane, but WordPerfect X6 also lets you customize the preview zoom level, perform a text search, and browse a file by scrolling through document elements, such as headings, comments, and graphics (see Figure 2). You can even print a WordPerfect document directly from the Preview mode. When previewing a WordPerfect file, right-click in the preview pane (in either Windows Explorer or Outlook) to open a menu of options: Select All, Copy, Full Page View, Page Width View, Print, Go To and Find.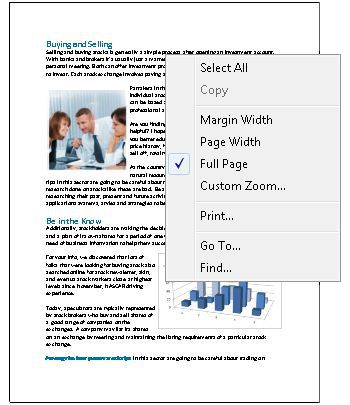 Figure 2 
Right-clicking a document preview in Windows Explorer (or Microsoft Outlook) offers a range of actions that can be taken on a document without having to first open WordPerfect.
WordPerfect® Viewer for Android™
Road warriors will be especially enthusiastic about the new WordPerfect® Viewer for Android™ . When you're always on the move, you'll be able to take care of business and keep important projects moving. You can read WordPerfect email attachments and downloaded files with a simple tap on any Android device. You can also quickly scan a document by keyword, email converted files, and export an HTML version. Available now through Google Play and other Android eStores.
WordPerfect® eBook Publisher
Publishing an eBook typically requires extensive technical know-how and a variety of complex software. Or, you could pay an eBook publishing company to do it. Now with the new WordPerfect® eBook Publisher, you can layout a book by using the legendary formatting features of WordPerfect and then publish it to an eBook format in no time (see Figure 3). The WordPerfect eBook Publisher has an intuitive interface, making it easy to create MOBI formatted files, which can then be uploaded to Amazon and shared on the Kindle™ and other handheld devicesand smartphones that support MOBI.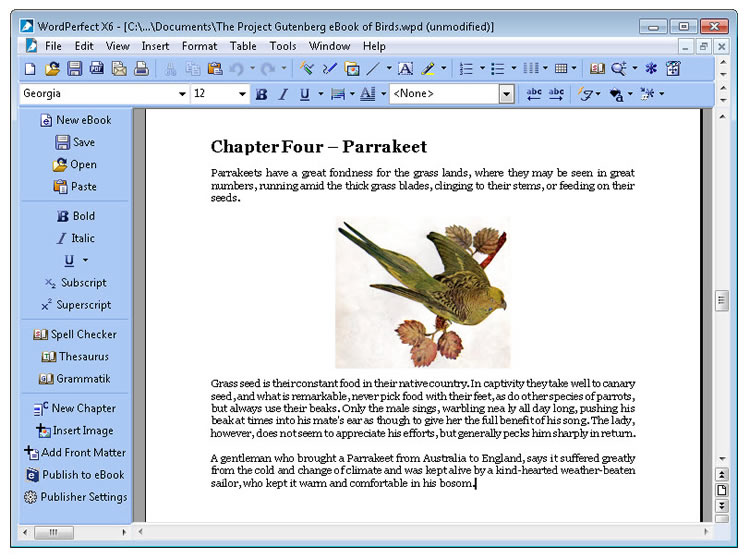 Figure 3 
WordPerfect eBook Publisher helps you avoid complicated software and costly conversion fees.
Bates numbering
Adding Bates numbering to critical files is standard practice in many fields, including law and medicine. It can be a tedious and time-consuming process. Legal users can save time with this new tool that lets you easily insert Bates numbers in WordPerfect documents. Every page in a document is assigned a unique, incremental number for quick identification.
This unique number can contain a prefix (such as a case number) and a suffix (such as a client number or company name). There are several formatting options available, such as the position on the page, the font, size and font color (see Figure 4).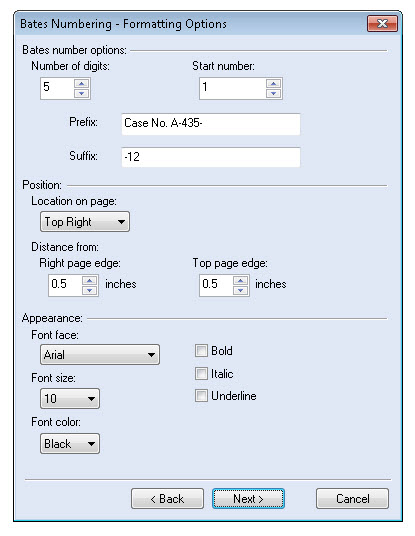 Figure 4 
You can apply Bates numbering for easy document identification and retrieval.
Four handy new macros
Even if you've been using WordPerfect for many years, you may still be pleasantly surprised at how many repetitive tasks have been automated by one of the handy little macros that come with the program. Affectionately referred to as the "shipping macros", these little gems can be found a couple of different ways.
My favorite method is simply to turn on the Shipping Macro toolbar so all it takes is a quick click to run my favorite macro. Click View > Toolbars to open the Toolbars dialog box. Scroll down and enable the check box next to Shipping Macros. The new Shipping Macros toolbar appears on your screen (see Figure 5). With a single click of a button on the Shipping Macros toolbar, you can discard all changes and open the last-saved version of a file, perform a multiple find and replace and more.
 Figure 5 
The Shipping Macros toolbar gives you instant access to the most popular macros that are included with WordPerfect.
While handy to use, the Shipping Macros toolbar doesn't include the entire collection of macros so to gain access to every precious gem, click Tools > Macro > Play. A complete list of these macros and a very nice description can be found in the Help topics — simply search for "shipping macros" or "using macros included with WordPerfect". When you're ready to create your own macros, there is a great tutorial on YouTube that teaches you how to create and edit a basic macro.
Supporting applications
An article on what's new in WordPerfect Office X6 just would not be complete without mentioning the invaluable collection of supporting applications. After reading through this list, it's easy to see how much value these applications add to the suite.
WordPerfect® Lightning™
This digital notebook makes it easier than ever to capture, organize, and reuse ideas, information, and images. The Notes window lets you capture ideas, reuse information from other sources, and insert graphics or pictures. The Viewer lets you read Microsoft® Word), WordPerfect, and image files. With the Grab tool, you can easily take a snapshot of any area of your desktop or Web browser, which is saved as a note that can be emailed, printed, saved as an image file, or sent to WordPerfect X6.
WordPerfect® Viewer for the iPhone® and iPad®
When you're on the move, the WordPerfect® Viewer keeps you touch in with important information. On your iPhone® or iPad®, you can read WordPerfect email attachments and downloaded files with a simple tap (see Figure 6). A search feature lets you quickly scan a document to find relevant sections by keyword. You can also bookmark files, email converted files, and export an HTML version.Available now through iTunes.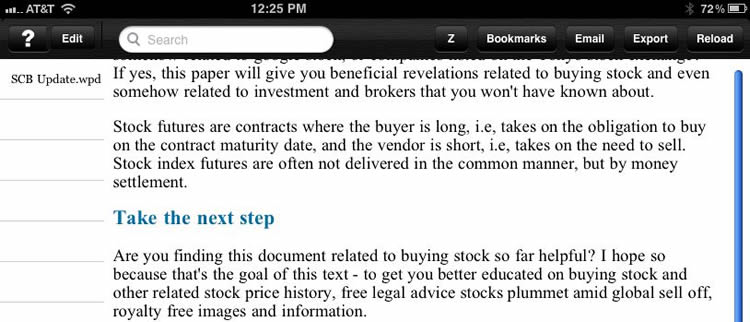 Figure 6 
The WordPerfect Viewer gives you the freedom to keep business moving — wherever you go.
WinZip® 16
WinZip® takes file compression to the next level with an automated data backup facility that helps you prevent data loss. Back up your desktop, documents, pictures and email so that you never lose a thing. Working with sensitive material? WinZip's AES encryption tool will password-protect your files as you zip them. WinZip also offers several innovative file sharing solutions to help you send large files without clogging email systems. You can even post zipped files directly to Facebook®.
WinZip® Courier™
WinZip® Courier™ takes the worry and frustration out of emailing files of any size or type. It works behind the scenes, so you simply write an email and attach your files as usual. When you hit the Send button, WinZip Courier automatically compresses your attachments into a single, small package before sending the email. And when you're sending confidential information, you can add password-protection. Preview functionality lets you see what's inside a Zip file attachment directly in the Microsoft Outlook preview pane. What's more, you can double-click a displayed file to launch its associated application for viewing, editing, or saving.
ZipSend™
When you need to send files that are too big for email, ZipSend™ is the answer. ZipSend automatically zips up your files, uploads them to the ZipSend cloud service, and inserts a link to the files at the top of your email message. Your recipients simply click the link to download your file attachments.
Presentations™ Graphics X6
The tightly integrated drawing tools that users have used for years within WordPerfect, Quattro Pro® and Presentations™ are now available as a separate drawing program called Presentations Graphics X6. Now accessible from the Start menu, users can quickly create, edit, and enhance original drawings and bitmaps. Presentation Graphics X6 offers a broad range of drawing tools, bitmap editing tools and special effects. In addition, users can save drawings created or enhanced with Presentations Graphics X6 in various file formats, such as WordPerfect graphic, Windows bitmap, JPEG, GIF, and more.
Corel® VideoStudio® Essentials
Corel® VideoStudio® Essentials X4 is the simple way to start making movies and slide shows. You can quickly add photos, videos, and music to the library, then drag them to the timeline where you can apply a wide variety of transitions, filters and effects. Then share your videos online via your favorite websites, including Facebook, Flickr®, and YouTube™.
BrainStorm® QuickHelp™ Training:
WordPerfect Office X6 gives you quick access to video-based training from BrainStorm, Inc. an industry-leader in software training since 1995. With a singleclick from the WordPerfect X6 toolbar, you'll receive short, easy-to-follow video training with step-by-step instruction to help you be more productive in the workplace, at school, and at home (see Figure 7).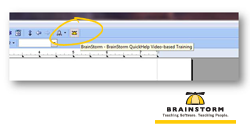 Figure 7 
You can take advantage of the free BrainStorm QuickHelp™ video-based training right from the toolbar.
Nuance® PaperPort® SE 12
Eliminating paper clutter and organizing an office just got a lot easier with Nuance® PaperPort® 12 SE. Mounds of hard copies and photos can be scanned to fully searchable PDFs, simplifying document management (see Figure 8). Nuance PaperPort 12 SE is the perfect complement to the renowned PDF capabilities in WordPerfect Office. You can annotate PDFs, facilitating collaboration and making any extra PDF software unnecessary.
Figure 8 
Nuance PaperPort 12 SE lets you organize, scan, and share your documents.
Using OCR (Optical Character Recognition) technology, PaperPort 12 SE can convert scans of paper documents into WordPerfect (WPD) or Microsoft Word (DOC) files for even more flexibility. What's more, scanned spreadsheets can be converted to Quattro Pro (QPW) or Microsoft® Excel® (XLS) files, and scanned slideshows to Presentations (SHW) or Microsoft® PowerPoint® (PPT) files.
Corel® PDF Fusion™ — the all-in-one PDF toolkit
Boost your productivity with Corel® PDF Fusion™, an all-in-one PDF creator that lets you view files, plus assemble, edit and create PDFs. View more than 100 different file types just by dragging them into the Welcome Screen. Take pages from multiple files, including documents, spreadsheets and presentations, and combine them into a single PDF to share with anyone. Add new text, bookmarks and comments. Plus, convert files to PDF, XPS and DOC formats with just a click. Available in the Professional Edition, give it a try in the Standard Edition.
Mozilla® Thunderbird® for WordPerfect® Office
A version of the Mozilla® Thunderbird® email application is included with WordPerfect Office X6. It has all of the bells and whistles, including a tabbed approach and a new set of search tools to help you locate a specific email in just seconds. Just like the browser tabs you've become accustomed to, message tabs let you keep multiple email messages open, each one in a separate tab, for quick reference. There are many add-ons that can be downloaded separately, such as the calendar, called Lightning.
There are beefed-up search features like filtering, indexing and time line tools, so pinpointing a specific email doesn't seem so much like finding a needle in a haystack. Even in the midst of thousands of messages within hundreds of folders, Thunderbird's search tool locates related messages and places them in their own tab.
Thunderbird lets you manage email from multiple email accounts in the same inbox. You will also have access to contacts information in Microsoft® Outlook or the WordPerfect Address Book.
Supporting utilities:
WordPerfect® OfficeReady™ Template Browser — makes it easy to find the right template for any project.
WordPerfect® Office Conversion Utility — converts batches of any document type that WordPerfect X6 can open to the WPD format.
PerfectScript™ — helps you create macros, recordings, and scripts.
QuickFinder™ — lets you find files by performing highly customizable searches.
PerfectExpert™ — guides you through basic tasks and helps create detailed projects.
Electronic Pocket Oxford™ Dictionary — gives you the ability to look up 30,000 definitions and phonetic spellings.
WordPerfect® XML Project Designer — enables you to define how various elements are to be displayed.
WordPerfect® Address Book — lets you store and manage personal and business contact information.

Tip: Differences in the Professional, Standard, Legal and Home & Student Editions can be found here.