When burning a project on to a physical digital media disc using VideoStudio Pro X5,the "Unspecified error 5.0.0" appears AT THE END of theburning process (when it reaches the "closing" disc or when it reach the 99% completion).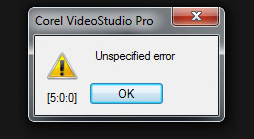 Result: You may be able to play the digital media disc on your computer but it will not play on standalone DVD/Blu-ray Players.

Here are the troubleshooting steps when you encounter this error:
It is recommended that multiple programs are not running while burning a project to disc to prevent burning errors and to increase your computer'sperformance.
Before burning the project on to a disc, at the last stage of Create Disc window, click on "More settings for burning" icon to launch the "burning options"window. Select the optical disc burner drive that will be used for burning, and then reduce the burning speed of your project. Use the lowest possible burning speed (2xor 4x if possible). In the Advanced Settings, check or enable "Test before burning" and "Buffer underrun protection".
Use external hard drives or optical disc drives for data backup only; we strongly recommend you use internal hard drive / optical drivedevices when editing videos, since external devices may create a data bottleneck. Youneed to havethe fastest hard drive on your computer dedicatedto capturing, editing, exporting, and burning your videos on to a digital media disc.
Disconnect any external devices attached to the computer such as External USB Hard drives and External Optical disc burner drive devices:

First export the project as MPEG-2 video file using MPEG Optimizer directly to the Users folder in the default or primary hard drive (C:\) or to the fastest hard drive.
Use the internal optical disc burner drive attached on your computer to burn the project on to a physical disc.

Update your optical disc burner drive withits latest firmware; this will improve reading / writing performance and increase the range of blank media supported.Please take note however, that this is a highly sensitive procedure.First checkthe Optical Drive manufacturer's website for any available firmware update for yourOptical Drive model. If there's no specific update, there is an ASPI update generally available, but please contact yourOptical Drive's tech support line for assistance, or it may cause complications.
You may need to change your optical drive writer hardware to a newer one.