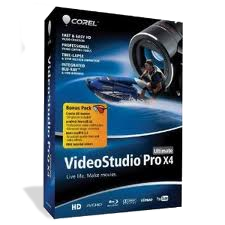 The Corel VideoStudio Pro installation disc has an autorun feature that is designed to start installing the application automatically.

Note: Corel VideoStudio Pro disc is a DVD disc. If you do not have a DVD reader, you will not be able to read the disc.
To install Corel VideoStudio Pro:
Insert the Corel VideoStudio Pro installation disc into your DVD-ROMdrive.
When the Setup screen appears, follow the instructions to installCorel VideoStudio Pro on your computer.
Note: If the Setup screen does not appear after you load the DVD,you can manually launch it by double-clicking the My Computer iconon your desktop and then double-clicking the icon for the DVD-ROMdrive where the installation disc is inserted. When the DVD-ROM window appears, double-click the Setup icon.
In addition to Corel VideoStudio Pro, the following programs anddrivers are automatically installed:
DirectX2007
MicrosoftVisual C++2005 Redistributable Package
Microsoft Visual C++ 2008 Redistributable Package
SmartSound
AdobeFlashPlayer
To Uninstall Corel VideoStudio Pro on Windows XP:
On the Windows taskbar, click Start > Control Panel.
Click the Add or Remove Programs icon.The Add or Remove Programs dialog box appears.
From the Currently installed programs list, choose Corel VideoStudioPro , and click Remove.
Follow the instructions to remove Corel VideoStudio Pro from yourcomputer.
On Windows Vista and 7, you can uninstall the application by going to Control Panel >> Programs and Features.




Keywords: remove, uninstall, install, setup, vsp, x4, x5, autorun, load, delete