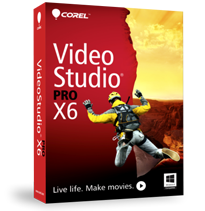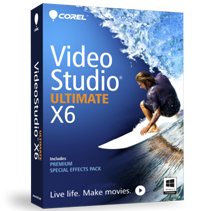 Top Reasons to Buy
1. A complete all-in-one video-editing package
No matter what you shoot, or what you shoot it with, Corel® VideoStudio® Pro X6 offers the easy tools you need to make your video productions better, faster and more fun. Work with stunning HD and new Ultra HD (4K) videos. Create impressive stop motion and time-lapse animations. Instantly track the motion of objects in your footage. Add special effects and export your videos in multiple formats so they can be seen and shared anywhere. VideoStudio Pro X6 offers everything you need to create impressive video projects.

2. Fast and easy video editing
Whether you're just getting started with video editing or are a seasoned pro, now you can create video projects faster and more easily using Corel® VideoStudio® Pro X6. Drag and drop your photo, video and audio tracks onto the customizable interface to get started instantly. Use templates to quickly achieve a professional look for your production. Watch integrated training videos to learn the basics or master new techniques. VideoStudio® Pro X6 offers the fastest and easiest way to create your dream video project!

3. Motion Tracking
New Motion Tracking in Corel® VideoStudio® Pro X6 allows you to track moving objects and add titles and graphics to follow them –creating an incredible array of new effects possibilities. With just a few simple clicks you can attach a thought bubble to someone walking down the street, add a moving label to a soccer player running down the pitch, or place security mosaics over license plates and faces—your graphics will automatically follow the moving objects onscreen!


4. Screen recordings, video blogs and game capture
Create high-quality screen recordings for your business, classroom or hobby using the screen recording capabilities of Corel® VideoStudio Pro X6. It's the perfect way to create video blogs, capture footage from the latest video games, and let your audience easily follow on screen action.

5. Stunning photo slideshows
No wedding, graduation, retirement party or other life event is complete without a slideshow. The effects, transitions and HD capabilities of Corel® VideoStudio® Pro X6 make it the ideal tool for any slideshow. Add an unlimited number of photos in a wide variety of formats. Combine photos with video and add music, effects, transitions, custom graphics, and more!

6. Fun and creative stop motion animation
From claymation and animated LEGO® building blocks, to bringing household objects to life, stop motion animation is fun and easy with Corel® VideoStudio® Pro X6. With new support for DSLR cameras, now your stop motion projects can be captured in near-cinema quality using all the looks and lens effects DSLR cameras have to offer. The new DSLR Enlarged Mode also mimics your camera's features on your computer screen or Windows® tablet, giving you complete control over your project–just set up and shoot all the frames you need without jostling your camera! Use amazing stop motion tools, all for hundreds of dollars less than leading stop motion software.

7. Time-lapse photography and Variable Speed video
Accelerate any series of photographs, or speed up or slow down video footage with the time-lapse and new Variable Speed controls of Corel® VideoStudio® Pro X6. Support for 50/60p video makes it easy to create incredible slow-motion sequences, while built-in HD performance means it's a breeze to work with long sequences of high megapixel images. Drop frames, add effects and titles, speed up or slow down footage, and much more. Time-lapse photography and Variable Speed controls offer the perfect way add a whole new dimension to all your video and photo projects.

8. Advanced compositing and visual effects
With 21 fully-customizable multimedia tracks, support for custom motion, alpha channels and the ability to work with Corel® PaintShop® Pro layers, Corel® VideoStudio® Pro X6 opens up a world of creative possibilities. Bring your vision to life with the ability to layer your clips, animate objects and insert impactful visual effects.

9. NEW! Support for Quicktime® movies containing alpha channels
Corel® VideoStudio® Pro X6 now supports Quicktime movies containing alpha channels, making it possible to import animated sequences that contain transparent backgrounds. Now you can create animations and video effects in other popular 2D and 3D animation packages and then use them in VideoStudio Pro X6.

10. Create video for the web, DVD, Blu-ray Disc™ and your mobile device!
Whether you're creating videos for YouTube®, Facebook®, Vimeo®, Flickr® or your own personal website, Corel® VideoStudio® Pro X6 makes it simple to share your message with the world. With powerful web video production tools and the ability to share to leading video sites built directly into the interface, creating the perfect online video is a snap. Fully customizable video output options also include support for WebM and MPEG-4 AVC formats. You can also burn directly to DVD and Blu-ray Disc or ISO disc images. Plus, save AVCHD 2.0 files to an SD card or output your 3D files to MVC format for instant viewing on compatible devices. Share anywhere with the ability to create videos for the web, desktop, Blu-ray, DVD and mobile devices!

11. High-performance video editing you can count on
Whether you're using an older dual core processor or working on the latest multi-core gear, Corel® VideoStudio® Pro X6 delivers a performance you can count on. Get industry-leading stability and performance. Use reliable autosaving to help ensure you won't lose your work. Take advantage of the flexible and secure Smart Package option to save and securely transfer your projects to other computers. Plus, if you're working on a newer high-end PC, built-in optimization for multi-core processors means you'll get amazing speed and quality for all your projects. Take your videos to the next level with the power, performance and reliability of VideoStudio® Pro X6.