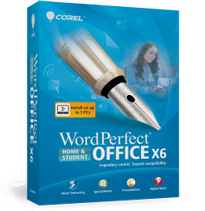 Multiple Monitor support allows you to increase productivity by working with even more files than ever, while also allowing you to collaborate with others across multiple screens.
Advanced Preview functionality offers a rich set of right-click options that allows you to check out files before opening them in Windows® Explorer and Microsoft® Outlook®.
Use the WordPerfect® eBook Publisher to create your very own eBook for smartphones and digital readers like the Kindle.
Bates Numbering functionality allows you to instantly add identifying numbers and markings to legal, medical and business documents.
The WordPerfect® Viewer mobile app is now available for Android, letting you read, search, bookmark, export and store WordPerfect® files from your smartphone. (Also available for iPhone and iPad).
BrainStorm training videos are now accessible directly from the WordPerfect toolbar.
Enhanced workflow macros now allow you to perform highlighted word searches and find-andreplace searches across multiple WordPerfect® Office files.
Import and edit videos taken from camcorders, digital cameras and cell phones using Corel® VideoStudio® Essentials.
Take advantage of enhanced PDF functionality in WordPerfect to import, edit, reformat, archive and export PDFs*.

* Built-in PDF functionality not included in WordPerfect Office Home & Student Edition