Creating Bubble text in CorelDRAW

What you will Learn:
How to create artistic text
How to apply a Drop Shadow and adjust the Settings
Creating Artistic text

CorelDRAW has two different types of text, artistic text and paragraph text. Artistic text is used for creating headings and titles while paragraph text is used for things like, well paragraphs. Lets begin by creating the text.

1. From the Toolboxon the left side, select the Text tooland click on the page.

2. Type your text and change the font. For this effect to work well, it would be better to use a font that is quite thick, such as Arial Black or CooperBlack. Here we use Cooper Black and set the point size to 72pt.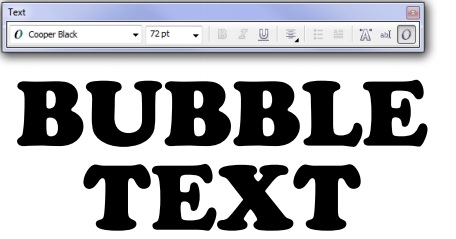 Adding the Drop Shadow

Adding a Drop Shadow is a simple matter of clicking and dragging using the Interactive Drop Shadow tool.

1.  From the toolbox, click on the Interactive Tool Flyout (this is the 5th icon from the bottom) and hold the mouse button down. Select the Drop Shadow tool.

2.  Left mouse click in the center of the text and drag outwards to create the shadow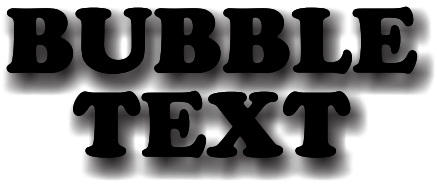 Next, we need to make some very specic adjustments to the shadow and these can be done in the Interactive property bar at the top of the screen. They are;


a. Set both the Xand Yco-ordinates to0:0.
b. Change theDrop shadow opacity to about 85(This setting will vary depending on the point size of the text).
c. Change Shadow feathering to 12-15. (This setting will vary depending on theweight of the font).
d. SetFeathering direction to Inside
e. SetTransparency Operation to Normal
f. ChangeShadow Color to White





The nal stage is to bring the Drop Shadow to the front of the text. In order to do this, we rst need to separate the shadow from the text.
a. Select Arrange> Break Drop Shadow Group Apart
b. Select Picktool by tapping Spacebar(which toggles between pick tool and the last tool used) and deselect all objects by clicking on a blank area of the page.
c. Bring the drop shadow to the front by clicking in between the characters and then holding down the Ctrlkey and tapping the Homekey.

If you want to change the color of the text, simply hold the Altkey and clickon the shadow. TheAlt+Pick combination acts as a digger tool to select objects under other objects) then left click the color from the palette on the right of the screen.




You can view the video tutorial of this article in the Discovery Center
If you have enjoyed this tutorial, be sure to check out the other tutorials that are available in the Discovery Center. If you have any ideas for tutorials or projects that you would like to see in the future, e-mail Discovery.Center@corel.com.