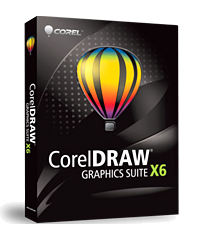 New! Advanced OpenType® support
Create beautiful text with advanced OpenType® typography features, such as contextual and stylistic alternates,
ligatures, ornaments, small caps, swash variants and more. Ideal for cross-platform design work, OpenType
offers comprehensive language support, allowing you to customize characters to suit the language you're working
with. Control all your OpenType options from a centralized menu and make contextual changes with interactive
OpenType features.
New! Document styles
Manage styles and colors easily! The new Object Styles docker centralizes style creation and management,
featuring all the tools you need in one location. Create and apply Outline, Fill, Paragraph, Character and Text
Frame styles to your objects. Group your favorite styles together in Style Sets, allowing you to format many objects
at once for speed and consistency. Or let Default Style Sets remove the guesswork and save time.

New! Custom-built Color Harmonies
Easily create a complementary color palette for your design. The new Color Harmonies tool, accessed from the
Color Styles docker, combines Color Styles into a Harmony, allowing you to modify colors collectively. It also
analyzes colors and hues to deliver complementary color schemes—a great way for you to satisfy clients with
variety!
New! Multiple trays in Corel® CONNECT™
Instantly find images on your local network and search iStockPhoto®, Fotolia and Flickr® websites. Easily access
your content, using the multiple trays now available within Corel® CONNECT™. And organize content by type or
project in trays that are shared between CorelDRAW®, Corel® PHOTO-PAINT™ and Corel® CONNECT™ for
maximum efficiency.

New! Page layout tools
Reserve a place for text or graphics with the new empty PowerClip frame. Use the new Placeholder Text tool
to mock up a page layout and get a good sense of how the text will look. Plus, easily add page numbers with
automatic page numbering.

New! Complex script support
Guarantee the proper typesetting and appearance of Asian and Middle Eastern languages. Complex script support
acts the same way as OpenType fonts, modifying characters as you type to deliver contextual accuracy.
New! Website design software
Effortlessly build professional-looking websites, design web pages and manage web content with Corel® Website
Creator™ X6. Its Site Wizard, templates, drag-and-drop functionality and seamless integration with XHTML, CSS,
JavaScript and XML make website design easy!
(A Corel account is required to download the application).
Enhanced Speed! Native 64-bit and multi-core support
Enjoy the speed of multi-core processing power and native 64-bit support. The enhanced speed allows you
to quickly process larger files and images. Plus, your system will be more responsive when running several
applications simultaneously.

New! Creative vector shaping tools
Creatively add effects to your vector artwork! CorelDRAW® X6 introduces four shaping tools that provide new
creative options for refining your vector objects. The new Smear tool lets you shape an object by pulling extensions
or making indents along its outline. The new Twirl tool lets you apply twirl effects to objects. And you can use the
new Attract and Repel tools to shape curves by attracting or separating nodes.

New! Bitmap and vector pattern fills
Now assign transparent backgrounds to vector pattern fills! We've introduced a collection of new vector pattern fills,
which includes transparent pattern fills for the first time ever, as well as many new bitmap pattern fills.