Learning from the experts with CorelDRAW® Graphics Suite
This tip has been written for CorelDRAW® Graphics Suite X3. This tip will be fully applicable to CorelDRAW Graphics Suite X3 and newer versions only.
Have you ever looked at a professional design created with CorelDRAW® Graphics Suite and wondered how the design was created? Which of the many powerful tools did the designer use to create an impressive visual effect? Insights from the Experts, a series of tutorials included with CorelDRAW Graphics Suite, gives you a chance to learn from experts in graphic design.
The international team of authors who contributed to Insights from the Experts come from different corners of the graphic design world. What they have in common is that they all use CorelDRAW Graphics Suite to create their designs. In their tutorials, the authors deconstruct their own designs to share with you their ideas, tips, methods, and techniques, showing you how you can benefit from the powerful tools and features of CorelDRAW Graphics Suite.
Accessing Insights from the Experts
Insights from the Experts is available as a printed publication and in PDF format. The printed publication is included in the boxed version of the product. It is an exquisite book with full-color illustrations. The PDF version of the tutorials can be accessed from CorelDRAW and Corel PHOTO-PAINT® by clicking Help > Insights from the Experts, or, from the Welcome Screen > Learning tools tab which can be accessed by clicking Help > Welcome Screen if not open by default upon launching CorelDRAW.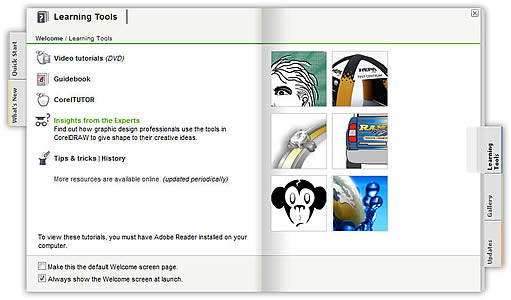 Insights from Experts in the Welcome Screen