Cannot launch CorelDRAW SE (X8) as well as CorelDRAW X8 (32-bit) after installing Pict-to-Painting plug-in (The application was unable to start correctly (0xc000007b)
Certain systems which have both CorelDRAW SE or X8 with Pict-to-Painting plug-in installed are no longer able to launch CorelDRAW SE or X8 successfully.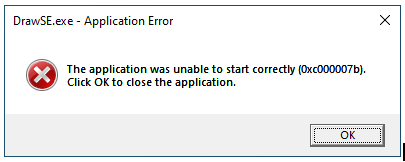 There seem to be a conflict with CorelDRAW SE or X8 and the newer version of Visual C++ 2015 x86 (Update 3 + KB3165756) installed by Pict-to-Painting.
Installing the newest version of Visual C++ (x86) seems to resolve the issue.
Go to:
https://support.microsoft.com/en-us/help/2977003/the-latest-supported-visual-c-downloads
In the section called "Visual Studio 2015, 2017 and 2019", click on the link:
x86: vc_redist.x86.exe
Install vc_redist.x86.exe
Restart your system
CorelDrawSE or X8 should now launch properly.