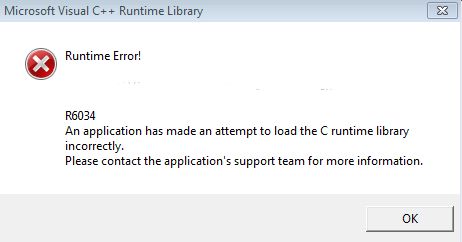 If you are experiencing this error when launching or installing a program, the most effective method to correct this error is to uninstall and reinstall any Microsoft Visual C++ installations currently available on your computer before proceeding with the installation.
To uninstall all current Microsoft Visual C++ installations
Open the Control Panel and locate the list of programs.

Windows 8
From within the Start screen, type "Control Panel"

Windows 7/Vista
Click Start> Control Panel

If viewing categories, click Programs> Uninstall a Program
If viewing icons, click Programs and Features

Windows XP
Select Start> Control Panel> Add or Remove Programs


Scroll down to locate the Microsoft Visual C++ entries.


Select each one, starting from the top entry, and choose Uninstall.

Do this for each entry, until there are no more Microsoft Visual C++ entries listed.
To reinstall new Microsoft Visual C++ packages
Note: If you are running Windows XP or a 32-bit version of Windows Vista/7/8, it is only necessary to download the packages noted as "Redistributable Package (x86)."

Click each of the following links in order. If prompted, choose to Run the download to install each Microsoft Visual C++ Redistributable Package.
Once every package has been downloaded and installed, restart Windows. Finally, launch the program, or run the update, again. If the error message persists after following all of these instructions, you may need to contact a Microsoft Certified technician to ensure that your Microsoft Visual C++ Runtimes are installed and operating properly.