To locate the serial numner of your previously purchased Corel product, please follow the steps below.
Note. If you have retreived your license key, but are unable to activate the product due to Invalid Serial Number error, please proceed to the last section of this article.
Purchase Lookup
If the product was purchased on the official website or the respective product, you can use the following page to perform a product lookup:
https://www.cleverbridge.com/?scope=cusecolp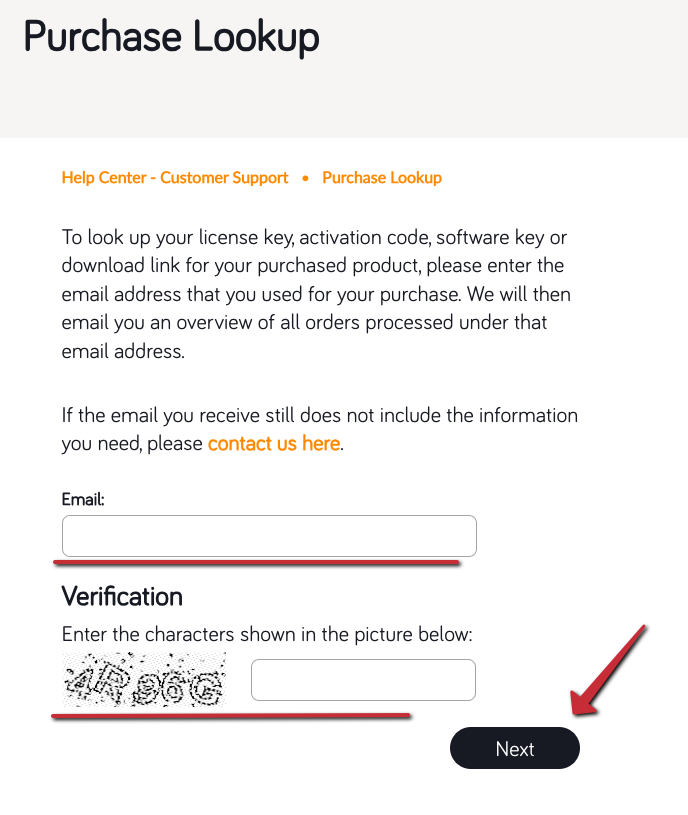 Note: for the lookup to succeed, you do need to enter the email address that was used during the purchase process. If you encouner any issues, please follow these detailed instructions.
Corel Account
Alternatively, if the purchase is associated with your Corel account, you can locate the invoice there, by performing the following steps:
1. Sign in to your Corel account at: https://account.corel.com/accounts/user/
2. Once signed in, at the bottom of the screen you will see "Your Order Status & History" section.
Clicking the order number will open the order confirmation page with a serial number inside.


"Invalid Serial Number" Error
To ensure that the activation steps are performed correctly, please try the following:

1. Use all capital letters. Some of Corel products' serial numbers require case-sensitive data entry.

2. If you are copying and pasting your serial number, please make sure that you are not including an additional space at the beginning or end of your serial number.

3. Manually type the serial number.
4. Please make sure to avoid these common serial number entry errors:
| | |
| --- | --- |
| What you see: | It can be: |
| Number Zero ( 0 ) | Letter O |
| Letter W | (Double Letter V) V V |
| Letter S or "B" | Number 8 |

5. Please make sure that the serial number matches the software you are installing.
You can verify it using the first 2 letter of the license key.
DR — CorelDRAW
PR — Painter
TS/PR — PaintShop Pro
VS — VideoStudio
WS — WordPerfect Standard
WP — WordPerfect Professional
WT — WordPerfect Home and Student / Legal
PF — Painter
PE — Painter Essentials
PA — Photo Album
Others if you have a serial number that starts with digits, please make sure that you are installing it from a the original link or disc.

If the activation is still unsuccessful, please contact our Customer Service Support.