How-to
Looking for a way to convert captured VHS video from MPEG-2 format to other formats, such as H.264 or WMV.
Cause
Easy VHS to DVD only captures in MPEG-2 format
Resolution
Easy VHS to DVD Plus and earlier versions will only capture in MPEG-2 as this is the format used for authoring DVDs. But you can convert and export these captured video files to formats other than MPEG-2, such as H.264.
To export to another video format, follow these steps:
1. After recording a VHS tape, click on the Next button to proceed to the Export screen;
2. In the Export screen, use the slider in the Device profile selection panel to scroll through the device profile list. Select "File";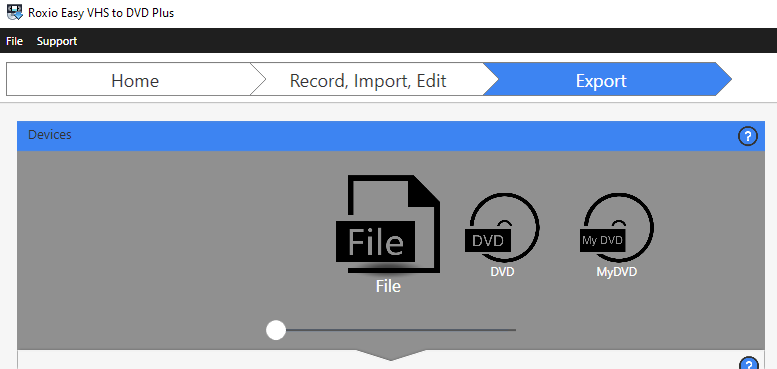 3. Below the Devices panel, click on the "+" button of Advanced Settings to select the format options you prefer;

4. The Frame Rate option will determine whether you will be encoding for the NTSC (29.97 fps) or PAL (25 fps) TV standard;
5. The Resolution options available is determined by the Frame Rate (NTSC or PAL) and Compression (MPEG-2, H.264, WMV) option you have selected;
5. Click the Export button and wait for the process to complete.