Symptoms
When Quattro Pro 2020 is opened, a blue-grey overlay appears over the entire screen which makes it very difficult to see anything underneath as pictured below: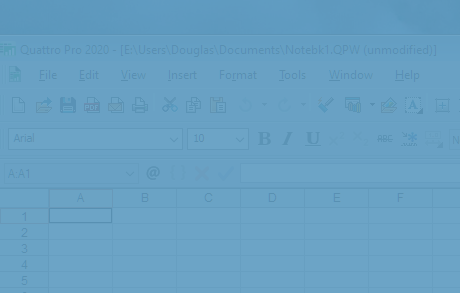 Cause
When Quattro Pro 2020 is run in Compatibility Mode for Windows XP SP3, this issue occurs in some builds of Windows 10. It has been seen in Windows 21H1 OS Build 19043.1288
Resolution
Disable compatibility mode settings. Quattro Pro 2020 does not require compatibility mode settings to work correctly in Windows 10.
Here is how to disable Compatibility Mode for Quattro Pro:
Right click on the Quattro Pro icon on the desktop

If you do not have a Quattro Pro icon on the desktop, browse to "C:\Program files (x86)\Corel\WordPerfect Office 2020\Programs\" and right click on qpw20 or qpw20.exe.

Choose Properties from the context menu. Click "Change Settings for all users" (highlighted in RED below):

Now, in the All Users dialog, Check "Run in compatibility mode for" and "Run as administrator", then click "Apply":

In the same dialog, uncheck "Run this program in compatibility for" and "Run this program as an administrator"
Click OK
Back in the Quattro Pro 2020 Properties dialog, click OK
Quattro Pro will now work normally.
NOTES:
When you see this blue / grey screen, you can close Quattro Pro by pressing Alt+F4 on the keyboard.
This issue is specific to Quattro Pro 2020 and does not occur in Quattro Pro 2021