Symptoms
You are receiving the following error when attempting to launch Easy VHS to DVD Plus: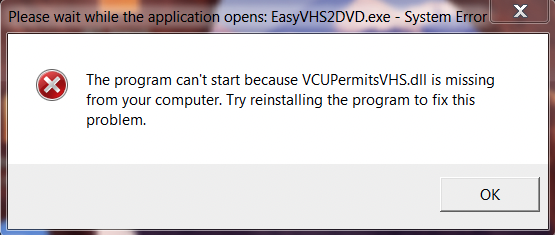 "The program can't start because VCUPermitsVHS.dll is missing from your computer. Try reinstalling the program to fix this problem."
Cause
The VCUPermitsVHS.dll file does not have the necessary permissions to run under the current user environment.
Resolution
This type of error message could be caused by other factors, such as required MS Visual C++ runtime files missing or failed to install; or even a virus infection. However, in this article we deal with the most common cause of this problem, which is due to missing user permissions.
To correct the problem, simply run the program as an administrator:
Right-click on the application's shortcut file on your desktop
Select Properties from the context menu that comes up



Click on the Advanced button on the bottom area of the window



Place a check mark in the option box next to "Run as administrator"
Try running Easy VHS to DVD Plus again
Click "Yes" if prompted by the User Account Control
Your Easy VHS to DVD Plus should launch this time.
If the problem persists for you, then something else might be causing the issue. Please reach out to our technical support team for further assistance.