Symptoms
Error in signing Corel account through an internet browser with the following error message below:
ERROR
An error occurred while processing your request. Please contact your helpdesk or user ID office for assistance
This service requires cookies. Please ensure that they are enabled and try your going back to your desired resource and trying to login again.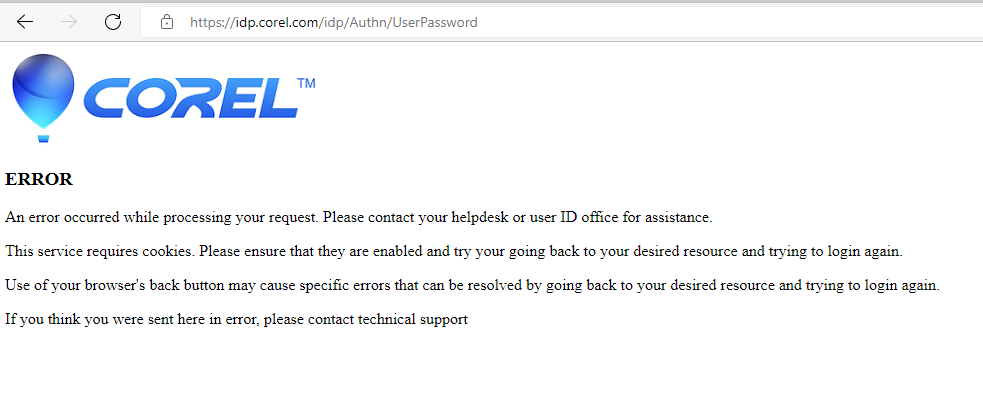 Cause
Cache or browsing temporary files are causing this issue.
Resolution
The issue happens to be a cache issue with your current browser. The browser history—a list of every page you've visited online and the time you were there this can lead issues, like when you're trying to login on any website.
Please follow the suggestions below to help you clear the cache on your internet browser. Refer to the browser below that you use for signing in your Corel account.
Google Chrome
Here are the steps below on how to clear the cache of your internet browser.
•Go to the three-dot menu at the upper-right of Chrome to select Settings > Show advanced settings > Clear browsing data (or in the omnibar type "chrome://settings/clearBrowserData" without the quotation marks).
•This takes you directly to the dialog box to delete not only the history of your browsing, but also your download history (it won't delete the actual downloaded files), all your cookies, cached images and files (which help load pages faster when you revisit), saved passwords and more.
Microsoft Edge
• Go to the three-dot menu in Microsoft Edge and select settings; in the fly-out menu, click the button under Clear browsing data that reads "Choose what to clear." Get rid of browsing and download history, cookies, cached data, stored form data, and stored passwords;
• click Show more and you can delete things like sites you've given permission to show pop-ups.
You can't delete just one chunk of data from a time period like a day or week, but there is the option to "Always clear this [data] when I close the browser." That ensures you have no browser history stored, as long as you close the browser regularly. Pick more data types and you'll have next to nothing stored—which is fine until you're entering the same passwords and 2FA logins over and over (the price of freedom, people).
Mozilla Firefox
• The latest version of Firefox likes to use sidebars for accessing preferences, much like Microsoft Edge. Access them at the hamburger menu (at upper right) and you can go right to History.
• It'll show all your visited sites and a Clear Recent History option (or hit Ctrl+Shift+Del for the same effect).
• If you select Options in that sidebar, you can go into preference for either remember history, never remember, or do some custom settings, such as always go into private browsing mode, or never store history or cookies, or to clear the history when closing Firefox.