Pinnacle Studio 25 is installed in Swedish language, but I want to change it to English.
Normally it requires re-installing Pinnacle Studio 25 and select the desired language during installation from language selection window.
You can try the steps outlined below to change your existing Pinnacle Studio 25 language from Swedish to English.
- Right-click on the Pinnacle Studio 25 Desktop icon, then go to Properties
- To the string Target, append the key "-l en-US" so that Target now reads, for example:
"C:\Program Files\Pinnacle\Studio 25\programs\Splash.exe" -l en-US, see the screenshot below.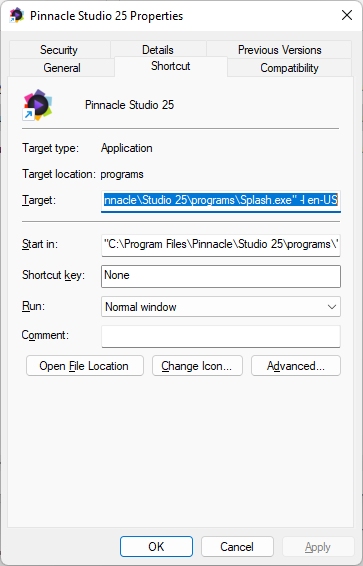 NOTE: In the above key(-l en-US), there is small letter 'L'
- Click Apply, then use the Desktop icon to start Pinnacle Studio 25, it should be in English language