Symptoms
This deals with a specific error message seen in the Windows Event Viewer Application log.
Initially, Creator NXT installation fails with a pretty generic error message, "We encountered a problem while installing: Creator NXT Pro 9".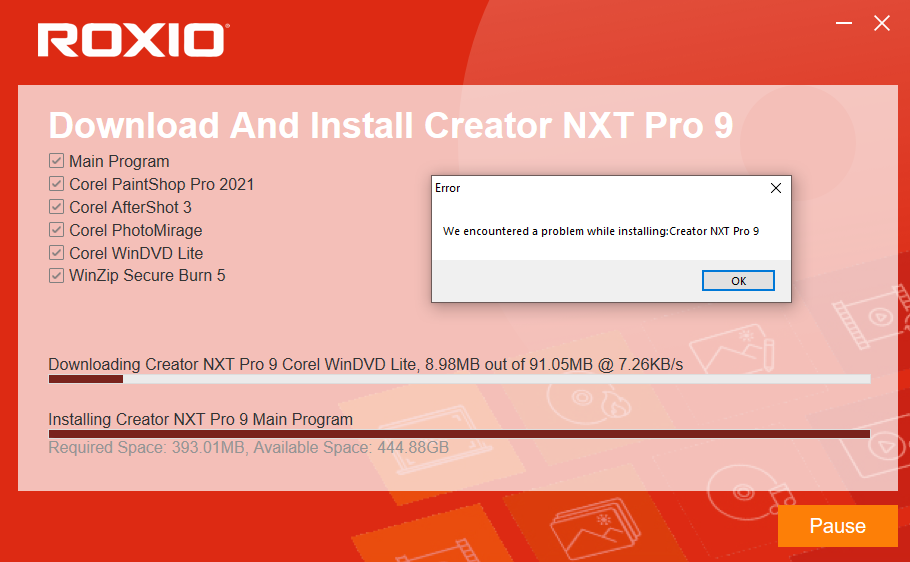 When checking the error log in Event Viewer > Windows Logs > Application, you see:"Roxio Creator NXT Pro 9 -- Error 1305.Error reading from file C:\Users\%username%\OneDrive\Documents\Videos\Roxio 3D Samples\GardenAnaglyph.mp4. Verify that the file exists and that you can access it."
Cause
The Creator NXT stub installer needs to create a user folder that contains sample files in the Documents system folder. The above error log indicates that Documents is being synchronized with OneDrive but is currently not accessible. This is because OneDrive has not been signed in to.
Resolution
You first need to check if you have the above error (1305) in your Event Viewer Application log.
Follow these steps to view the log:
Launch Event Viewer by typing it in the Windows Search box;
On the left-hand panel, double-click on "Windows Logs";
Right-click on Application and select "Clear log", then click the "Clear" button;
Run the Creator NXT stub installer again;
Once the installation fails, quit the installation and return to the Event Viewer window;
Click on the Action menu and select "Refresh";
Wait for the Application log to populate;
You may need to scroll down, then select the first error you encounter, if there are more than one;

Read the log entry in the lower pane, under the General tab;
If the error matches what was described in the first section of this article (i.e., "1305. Error reading from file..."), then the fix below is for you.
If the first error you select is different, check the other error entries. If none matches, this fix does not apply.
The fix: You need to sign in to your OneDrive account so that all synchronized folders/files become available and accessible again. Simply run the Creator NXT stub installer again - it should work this time.