To check your installed WinZip version and/or your registration information, you should open the About WinZip dialog. One example when you would do this would be if you purchased a backup CD for WinZip, which you received after having installed a WinZip version from a downloaded file.
To open the About WinZip dialog, click the Help tab and then click the About button.

At this point, the About WinZip dialog will open. You can then check:
Your version of WinZip
The WinZip build number
Whether you installed the 64-bit or the 32-bit version
Your registration information
You also can make use of the buttons on the right side of the dialog to find other information.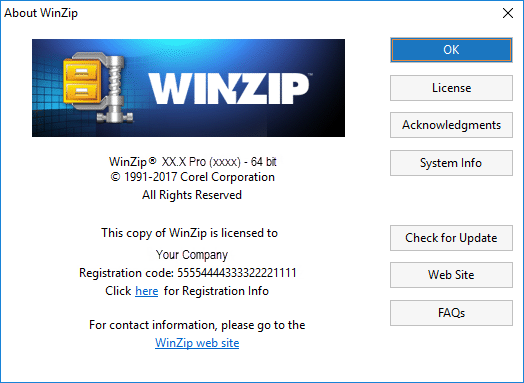 If you have questions about your registration, please submit a ticket using the Detailed Search section of the What is my registration code form.
Related Articles:
WinZip - What is my registration code?
How to register WinZip software with a registration code
Activation code - already used: How do I register again?