(Box.com (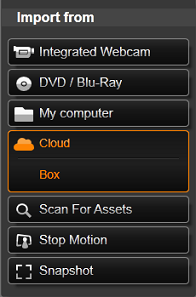 To begin the upload process, click Start Publishing. Next you will be presented with these options:

Sign Up: If you do not have a Box account you can sign up here for a free 25 GB account.
Upgrade: If you do have an existing Box account, but it has less than 25 GB of storage, you can upgrade for free to a 25 GB account.
Register: If you have not yet done so, you can register Pinnacle Studio to get a free 50GB account.


If you have not yet logged in, you will be prompted to do so.

The next step is to Choose the upload settings including:
Title
Description
Format

Fastest (360p)
Standard (480p)
HD (720p)
HD (1080p)

Tags
Destination

Once everything is set properly, click the Start button.

The Export to Box process will begin. Once Export is complete, you will be presented with a notification that the upload to Box has finished.