After WinZip Suite renewal, the window with the following message might appear: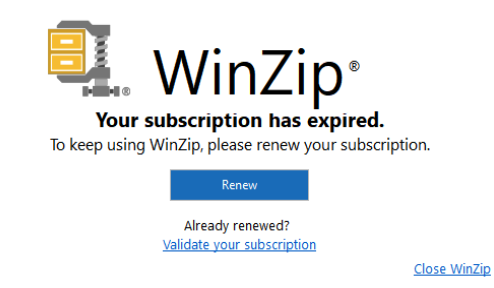 After clicking the Validate your subscription button, the below window appears:

You might see that since technically a new subscription is purchased instead of the original subscription renewal.
Fix the issue
To address the issue, we advise you to perform the steps below:
1. Uninstall your current WinZip version: Open the Start Menu > Apps & Features > locate WinZip in the entry list > Uninstall.
2. Delete the following folder and its contents: C:\ProgramData\WinZip.
Note: this is a hidden folder, so you need to enable Hidden items in File Explorer to see it.
3. Reinstall your WinZip Suite using the most recent installer.
4. To find your new registration info, log in to WinZip Suite Portal and locate your new subscription.
5. Register your WinZip Suite using your new registration info.
If the Register or Register Upgrade button is not displayed, hit the F2 key on the keyboard to open the Register WinZip window.
6. Now WinZip is registered correctly.