Instructions to quickly uninstall Easy VHS to DVD Mac version can be found below:
If the "Quick" version of the Easy VHS to DVD for Mac uninstall procedure does not fix the issue you are facing, a more thorough cleanup will be needed. For the Complete Uninstall instructions, click here.
Easy VHS to DVD for Mac: Quick Uninstall
This quick uninstall procedure involves trashing the associated Easy VHS to DVD for Mac apps from the Applications folder, and their associated preference settings files. This should be sufficient in most scenarios, such as crashing on launch or while recording, or before installing a newer version of the app. This requires basic familiarity with navigating the macOS taskbar and Finder.
To start uninstalling Easy VHS to DVD for Mac from your computer, follow the instructions below.
1. Trash the entire Easy VHS to DVD folder in Applications
2. Open the hidden folder called /Library/ in Finder
Procedure: Open Finder and press and hold the Options button on your keyboard, then press the Go button on the taskbar. With this key combination, you will have a "Library" item appear on the Go menu. Click on Library. Note that releasing the Options key will make the "Library" item disappear.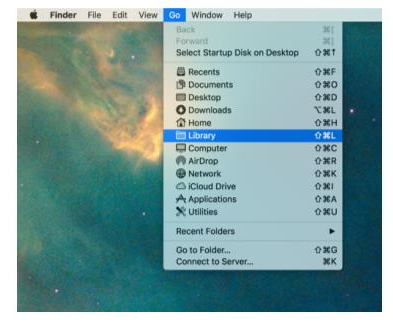 3. Locate and open the Preferences folder.
4. Delete the following files and folder:
a) . com.roxio.MyDVD.plist
b) . com.roxio.Roxio-Video-Capture.plist
c) . com.roxio.Toast15.MyDVD.plist
d) . /Rovi Preferences/ (contains file "Roxio Video Capture Preferences")
e) . Roxio Toast Prefs
5. Reboot your Mac and re-install Easy VHS to DVD
If the above procedures did not fix the issue you are encountering, you may want to try the complete clean-up procedure here . Do note that this involves a somewhat more advanced procedure that you may not be comfortable performing. If so, we advise reaching out to a more advanced user for assistance, or contact Technical Support.